Crane Scales: CAS Digital Industrial Scales



Authorized Dealer

Four different heavy-duty series digital industrial crane scales: battery operated with AC adapters. Accurate and full featured with standard wireless remote controls, the CAS line of electronic digital industrial scales will have a model to meet your specifications.
CAS Scales >> Industrial Scales >> Crane Scales
CAS IE Series Economy Crane Scales
| | |
| --- | --- |
| scale with LED Display | scale with LCD Display |

Built Tough
Built to last with its sturdy aluminum die casting. The IE Series Crane Scale offers a compact portable design and will give you years of trouble free operation.

Hours of Use
A fully charged battery will offer up to 50 hours of use.

Easy to Read
Large 1.1 inch LCD or LED displays for easy reading from a long distance.




Features
100 to 2000 lb capacities
LCD or LED Display (1.1 inches/30mm)
Battery Operated
Low Battery and Overload Indicators
High Intensity Hook and Shackle
Heavy Duty Aluminum die cast case
Includes
AC Adapter
Rechargeable Battery
Wireless Remote Control
IE Series Model
IE-100E
Price



Capacity
100 X 0.05 lbs
Display Type
LED
Ext Resoloution
1/,2000 - 1/3,000
Max Tare
Full Tare
Display Digit
5 Digits
Function Key
Power, Zero, Tare, Hold
Operating Power
DC 9V/1500mA
Remote Ctrl Range
10M
Dimensions
8.7 (W) x 15.9 (H) x 5.1 (D))
225 (W) x 405 (H) x 130 (D)
Product Weight
9.3 lbs / 4.2 kg
Model
IE Series
Max Cap
100
200
500
1000
2000
L
13.2 / 335
14.2 / 360
A
0.8 / 20
0.98 / 25
B
2.6 / 65
2.95 / 75
C
0.8 / 20
0.8 / 20
CAS NC-1 Series Scales - Legal For Trade
Battery Operated with low battery indication
Standard AC adapter
Weatherproof cast aluminum case
On/Off, Zero, Tare and Kg/Lb functions
Easy to read LCD display with back light feature
Auto Span adjustment
Auto zero tracking
Wireless remote control
Rechargeable battery
Environmentally sealed to IP67 standards



NC-1 Model
NC-1-250
NC-1-500
NC-1-1000
Price









Capacity
250 x 0.1 lb
125 kg x 50 g
500 x 0.2 lb
250 kg x 100 g
1000 x 0.5 lb
400 kg x 200 g
Legal For Trade
NTEP #96-164
Maximum Tare
full tare
Display Type
LCD (1 inch)
Operating Power
DC 12V (1.5A)
Power Source
AC 120 V, 60 Hz
Display Designators
Zero, Tare, Battery
Power Consumption
0.25 W
Operating Temperature
-10°C ~ +40°C (14°F ~ 104°F)
Dimensions w x d x h
10.2" x 5.3" x 18.9"
260 x 134 x 480 mm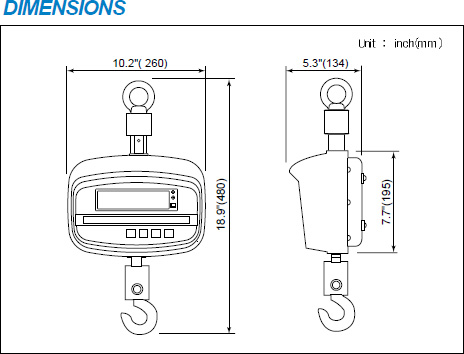 Display & Keyboard

Battery Pack Installation


Battery Operated with low battery indication
Rechargeable battery pack
Spare battery pack and charger included as standard
Remote control included as standard
On, Off, Zero and Tare functions
Easy to read 1.2" LED Display
Auto span adjustment
Auto Zero Tracking
Caston II Model
0.5-THB
1-THB
2-THB
5-THB
Price












Capacity
1000 x 0.5 lb
500 kg x 0.2 kg
2000 x 1 lb
1000 x 0.5 kg
5000 x 1 lb
2000 x 0.5 kg
10,000 x 2 lb
5000 x 1 kg
Maximum Tare
full tare
Display Type
LCD (1.2 inch)
Operating Power
DC 6V
Power Source
AC 120 V, 60 Hz
Display Designators
Zero, Tare, Battery
Power Consumption
1 W
Operating Temperature
-10°C ~ +40°C (14°F ~ 104°F)
Product Weight
37.5 lb (17 kg)
Battery Operated with low battery indication
Rechargeable battery pack
Spare battery pack and charger included as standard
Remote control included as standard
On, Off, Zero, Tare and Hold (manual or automatic) functions
Easy to read 1.5" LED Display
Auto span adjustment
Auto Zero Tracking
Environmentally sealed to IP 67 standards
Model
5-THD
10-THD
15-THD
20-THD
30-THD
50-THD
Price


















Capacity
10000 x 5 lb
5000 kg x 2 kg
20000 x 10 lb
10000 x 5 kg
30000 x 10 lb
15000 x 5 kg
40000 x 20 lb
20000 X 10 kg
60000 x 20 lb
30000 X 10 kg
100,000 x 50 lb
50,000 x 20 kg
Shipping Wt.
98 lbs
153 lbs
158 lbs
240 lbs
710 lbs
1050 lbs
Maximum Tare
Full Tare
Accuracy
Plus or minus 0.1% of applied load
Overload
Safety: 150% of rated capacity
Ultimate: 300% of rated capacity
Housing
Alodined cast aluminum Double O-ring gasket NEMA 4 IP 65
Hook, Eye, Shackles
Crosby or equivalent
Display Type
LED / 6 Digit (1.5 inch)
Calibration
Manual
Operating Power
DC 12V
Operating Time
14 - 24 hours
Power Source
AC 120V, 50/60 Hz
Display Designators
Zero, Tare, Hold, Batt
Power Consumption
1.2W
Operating Temp
-10oC ~ 40oC / 14oF ~ 104oF
Caston III BlueTooth Digital Scales



Battery Operated w/Low Battery Indicator
Rechargeable Battery Pack
Spare Battery Pack and Charger Included
Easy to Read 1.5? Display
On, Off, Zero, Tare, and Hold (Manual or Automatic) Functions
Auto Span Adjustment
Auto Zero Tracking
Includes - Wireless Remote for Caston III Models - TW-100 Bluetooth Remote Control for Caston III BT Model - Remote Base includes RS-232C - Cradle included with 60K & 100K Models





10K, 20K, 30K, 40K, 60K, & 100K Capacities
Bluetooth Wireless Remote Control (TW100)
Battery Operated (Rechargeable)
Spare Battery Pack & Charger Included
Easy to Read 1.5" LED Display
On, Off, Zero, Tare, & Hold Buttons
Auto Span Adjustment
Auto Zero Tracking
Bluetooth Oprating Range over 350ft
Specs
Model
5-THD-BT
10-THD-BT
15-THD-BT
20-THD-BT
30-THD-BT
50-THD-BT
Price


















Capacity
10000 x 2 lb
5000 kg x 1 kg
20000 x 5 lb
10000 x 2 kg
30000 x 10 lb
15000 x 5 kg
40000 x 20 lb
20000 X 10 kg
60000 x 20 lb
30000 X 10 kg
100,000 x 50 lb
50,000 x 20 kg
Shipping Wt.
98 lbs
153 lbs
158 lbs
240 lbs
710 lbs
1050 lbs
Maximum Tare
Full Tare
Accuracy
Plus or minus 0.1% of applied load
Overload
Safety: 150% of rated capacity
Ultimate: 300% of rated capacity
Housing
Alodined cast aluminum Double O-ring gasket NEMA 4 IP 65
Hook, Eye, Shackles
Crosby or equivalent
Display Type
LED / 6 Digit (1.5 inch)
Frequency (BT)
2.4 Ghz
Remote Distance (BT)
Up to 350 ft / 106.7 m
Channels (BT)
Up to 79 separate channels
Calibration
Manual
Operating Power
DC 12V
Operating Time
14 - 24 hours
Power Source
AC 120V, 50/60 Hz
Display Designators
Zero, Tare, Hold, Batt
Power Consumption
1.2W
Operating Temp
-10oC ~ 40oC / 14oF ~ 104oF