Industrial Scales

Floor Scales
Manufacturers
Pallet Jack Scales
Pallet Jack Scales -- These digital pallet truck scales are rugged, dependable and ideal for accurate weights. The Pallet Jack Scales have been designed for use in rugged areas such as shipping docks, warehouses, and piecework production lines. More info about Pallet Scales
By incorporating one of the pallet jack scales into your daily operations, you will be guaranteed an accurate weight reading of 0.1% of the applied load. Using one of the pallet jack scales below during routine handling operations allows for time savings over moving materials to a central scale and then to a final destination.
CAS Pallet Scales
Model
CPS-1N
CPS-2N
CPS-Plus
Price From
$3,395.00
$3,395.00
$2,295.00
Capacity x Readability
3,000 x 1 lb
5,000 x 1 lb
5,000 x 1 lb
Legal for Trade
YES
YES
-
Built-in Printer
YES
YES
-
more ..
more ..
more ..
Fairbanks Jack Scale

Model
Pallet Weigh
Pallet Weigh Plus
Price
$1,867.50
$2,475.00
Capacity x Readability
3000 x 1 lb
5000 x 2 lb
3000 x 1 lb
5000 x 2 lb
Legal For Trade
-
NTEP CC# 12-019
Dimensions
47.5" x 27"
47.5" x 27"
Optional Printer
-
YES
-
More Info.
More Info.

LP-Scale Pallet Jack Scales

Model
LP7625 Series
Price From
$1,291.20
Capacity X Readability
2500 lb X 0.5 lb
5000 lb X 1 lb
Legal for Trade
NO
Optional Printer
Yes
Dimensions
48" x 27"
More Info.
Adam Pallet Jack Scale

Model
PTSplus Series
PTT Series
Price From
$1,895.00
$2,844.00
Capacity X Readability
5000 lb X 1 lb
5000 lb X 1 lb
Weighing Units
kg, lb, lb:oz
g, kg, ct, lb, oz, dr, mm, T, tonne
Optional Printer
YES
Built-In
More Info.
More Info.

Rice Lake Pallet Jack Scale

Model
RL-HPJ Series
Price From
$2,070.85
Capacity X Readability
5000 lb X 1 lb
Weighing Units
Pound (lb), Kilograms (kg)
Optional Printer
-
More Info.
DigiWeigh Pallet Jack Scale
Model
DWP-PJ
DWP-PJ-P
Price
$1,595.00
$1,795.00
Capacity
4400 lbs x 0.5 lb
Type
Pallet Jack Scale
Platform size
45" x 6.25", 27" spacing
Power
Built-in rechargeable battery
Printer
NO
YES
More info
More info
Intercomp Pallet Truck Scales
Pallet Scale
PW800
Capacity x Readability
5000 x 1 lb
Price From
$2,965.50
Optional Printer
YES
More info
Your Basic Guide to Pallet Scales
Pallet scales are extremely versatile and useful scales that can save you time regardless of the reason you require them.
In the following blog, we'll go over everything you need to know about pallet scales, from what they are, the varieties and types they come in, and how you can choose one that fits you best.
What are pallet scales?
Pallet scales are highly professionalized scales that can weigh everything from crates to pets all the way to food and general goods. Commonly equipped with measurement indicators, these are highly popular industrial-scale options common and widespread due to their known reliability and efficiency. With their resilience, adaptability, and confidentiality, pallet scales are the powerful scale that you may be searching for.
How can pallet scales help you?
Pallet scales are ideal for weighing packages, goods, and containers before distribution or storage. In order to weigh numerous palleted goods, you can use a crane scale which can aid in the procedure. With pallet scales, you can measure and weigh palleted goods prior to storing them in order to guarantee that they do not exceed safety weight and working limits.
Pallet Platform scales: These scales lay flat on the floor with a ramp or sloped edges acting as a floor scale. This design specifically permits animals or goods to be moved on and off of the scale easily.
Pallet Truck scales: This heavy-duty scale has forklift options that help you easily weigh heavy objects as you maneuver and control their distributions, this effectively reduces loading time for each of your batches. Additionally, truck scales are brilliant as they provide large handles and impressive zero-pivot rotation capabilities, making this an ideal option when considering storage.
Pallet Beams: are essentially two small beams that are placed underneath the pallet, perfect for everything from cattle to crates and cages to general heavy goods. They have long and robust cables that can retract and expand depending on the weight of the weighted object.
Why this can interest you
Pallet scales make weighing a much easier task thanks to their adaptability and versatility. This effectively makes warehouse stock checking a much easier, more efficient, and much more cost-efficient resort.
Pallet scales' usefulness is especially evident in the veterinary and agricultural world. Not only does the average time weighing animals decreased, but as well multiple animals can be weighed at once on larger platforms, and numerous cages can be placed side by side for higher time and cost efficiency.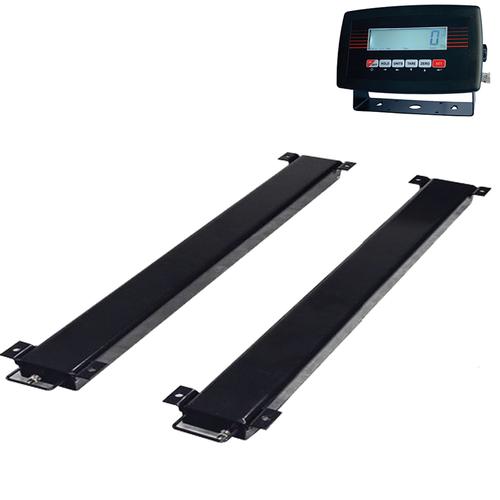 Different types of pallet scales
With the varying weighing needs, pallet scales fit these needs with different types and models of scales. Below we'll go over some of these scales in a more inspected manner:
Pallet beam scales
There is no doubt that beam pallet scales are among the most adaptive of pallet scales. Beam pallets can be categorized into two types: U-frame beams and dual beam scales. The dual beam, or parallel scale, is made up of two beams that are connected to the indicator itself.
Industrial weighing
You can use pallet beams without platforms for weighing large pipes, by placing them horizontally across the two weighing strips. The indicator features pre-selected weighing options to suit your needs including check weighing, parts counting, and percentage weighing. When weighing pipes or large construction materials, parts counting can help to keep an accurate check of how many pipes you are placing onto the scale as you go, whilst check weighing features can be customized to ensure that the weight recorded for each product is accurate and meets legal requirements.
Animal weighing
In order to ensure healthy animal living, zoos, and farms use pallet beam scales to maintain their animals to appropriate standards. Regardless, weighing animals is no easy task, and the pallet beam offers the best and relatively easiest way to achieve your goal. As animals tend to be heavier, wilder, and larger, the pallet beam scale permits you to place large cages to contain the animal in order for you to appropriately measure their accurate weight without them moving around.
Pallet truck scale
Otherwise known as forklift scales, or pallet jack scales, pallet truck scales are a quick and effective method of weighing with their adjustable base as it automatically measures the weight the moment it is placed on the pallet. The pallet truck scale is a famous option for industrial areas or warehouses, where heavy items can be weighed efficiently without a great deal of manpower and risk of employee injury. One of the things that make this scale so brilliant is its allowance to customize it with either red or green LEDs to indicate whether the weighted object is the correct or incorrect weight.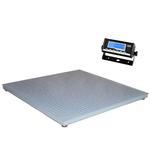 Platform scales
The most ideal method of weighing large and oversized goods is using a platform scale. These heavy-duty and industrial scales are amongst the most weight-tolerant scales on the market today. The adaptability of platform scales is evident, from animals to industrial goods, this scale is built to take on heavier loads and more difficult measurement tasks. These scales feature sloped rims providing all the support a ramp would be expected to provide, allowing for large palleted goods and industrial cargo to be pushed on or off effortlessly with comfort and ease and come in stainless steel models as well signifying their efficiency and durability.
You may have encountered a platform scale at your pet's veterinary where dogs and other such pets can easily be weighed easily by weighing their average weights.
Interested?
ScalesGalore.com is one of the largest-scale wholesalers in the United States. Serving professionally since 1969, we have been providing our customers with the quality and service they can expect.
Exceptional prices - We will meet or beat any legitimate price offered by our competitors. (proof required)
Extraordinary service -

Our tremendous inventory allows us to ship most orders within 24 hours!
Local delivery service is available in the New York City area
Quick response to your questions, literature requests or technical problems, whether by e-mail, FAX or phone

Unparalleled quality - Itin Scale Company has been a respected name in the scale industry for over 30 years. We feature scales and equipment manufactured by the best in the business, including: A & D, Adam Equipment, Avery Weigh-Tronix, CAS, Chatillon-Ametek, Detecto, Doran Scales, Easy Weigh , Fairbanks , HealthOMeter, Imada, Mark 10, Minebea Intec, Ohaus, Salter Brecknell and Sartorius .
scalesgalore.com, a division of
Itin Scale Co., Inc.
4802 Glenwood Rd.
Brooklyn, NY 11234
Phone: (718) 336-5900 (Order Toll-Free 800-832-0055)
FAX: (718) 627-1313

Email us at: Sales:

[email protected]