NEXYGEN software packages have been engineered to offer solutions for the most common force measurement and materials analysis applications. However when you need to perform custom testing or if you simply want to modify your NEXYGEN test setup to perform additional functions not part of the standard setup, we offer the ONDIO application builder software. ONDIO software is based uponthe VBScript programming language. ONDIO software presents detailed attributes for your standard package. It presents configurable parameters in three steps: Test Parameters, Primary Script and Secondary Script:
STEP 1 - Establish your Test Paramenters
ONDIO software interfaces with your NEXYGEN test setup and provides additional attributes that can be used for your test. These attributes include:
Direction (compression or tension)
Preload
Auto measure sample height
Known height
Area
Break
Break not expected
Break when load drops sharply
Auto zero
Auto return
Extra results
These attributes help to further define your NEXYGEN setup with very specific test parameters.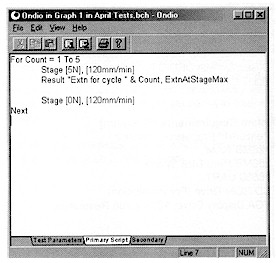 STEP 2 - Define How Your Machine Operates at Startup and at the End of the Test
The primary script is used to define how your NEXYGEN application will operate at the start and end of the test. It determines how the machine moves when readings are taken and what results are presented. The advantage of using VBScript is that the language is intuitive and easy to learn. The STAGE command helps define how the machine will move and can be established based on extension or load. ONDIO software recognizes parameters in [brackets] and the units associated with the parameter. If the parameter is incorrect, ONDIO software will identify the problem in your script to help in troubleshooting.
The RESULT command identifies the column heading to be used as the values for the specified result type. Results can be recorded based on the load limits or extension you establishor can be determined by calculations or combinations of results such as the sample modulus. You can create loop counters for cycling testing, calculate stage limits and create "Progress" routines so that you can determine how far your long test is in completing the entire test setup. You can also create preconditions that prompts the user to take manual action prior to the test being allowed to continue. You can even compensate for typical testing factors, such as a pause by the machine during a relaxation measurement.
STEP 3 - What to Do with Your Results
Secondary scripting defines how your results will be used. The secondary script can be used to post "markers" at specified points on your trace to denote key characteristics. Markers can be defined based upon load, extension, work and time. The secondary script includes a built in Modulus which can be used to determine the steepest gradient and draw a tangential line along the trace. You can also use a secondary script to cause your NEXYGEN test to react at the break point of your sample. For example, you can specify to record the "LoadAtBreak", "ExtnAtBreak" and the "WorkAtBreak".
ONDIO software can also be used to expand the data acquisition functionality of your NEXYGEN application. ONDIO software can operate with an interface card for reading analogue or digital signals. This allows you to:
Conditionally collect analogue data from an input channel
Terminate a drive stage when either an analogue or digital signal falls below a user-defined threshold
Automatically convert the input voltage to the required unit (eg. extensometer output converted to extension)
Change the state of a digital output (switch equipment On/Off)
Features:
Simple and intuitive using VBScripting language
Automated Sytax Checking
Advanced results calculations
Preconditions
Automatic scaling of results
Doesn't require previous programming experience
Ideal for complex testing involving
Multiple stage testing
Cycle testing
Tests involving load rate and load hold stages
User defined results calculations
TickIT Certified
System Requirements (minimum):
Pentium II Processor at 400MHz

128 MB RAM

250MB Hard disk space

16550 UART

CDROM for installation

VGA, 1024 x 768 resolution