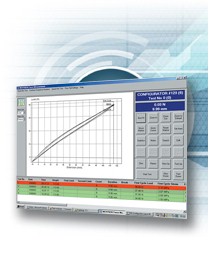 Chatillon products use the exclusive NEXYGEN Series application software. This Windows software makes automated testing and data analysis simple and efficient. Chatillon NEXYGEN software is OLE2 compatible so you can export information seamlessly to standard application software programs like Microsoft WORD, EXCEL, ACCESS, POWERPOINT and OUTLOOK. Chatillon NEXYGEN software was designed for testing professionals and used on the production floor, laboratory or office. All Chatillon NEXYGEN products are ISO 9001 TickIT accredited.

Chatillon NEXYGEN TCD Series software is used with test stand application where you also want to include elongation measurement into your testing results.
TickIT is a procedure developed to evaluate and certify that software quality meets the requirements of ISO 9001. The main objective of TickIT is to add value to the ISO certification process by ensuring that quality system audits for software are carried out by competent registered auditors. NEXYGEN Series software products are TickIT accredited.
A common misconception is that a product is "21 CFR Part 11 Approved". Often customers inquire as to whether the Nexygen software is approved under 21 CFR Part 11 guidelines. Chatillon software includes a Security Module that helps users comply with 21 CFR Part 11 guidelines. It allows users to integrate the product and testing system into their overall quality procedures, quality processes and system environments. The Security Module "assists" users in meeting these guidelines by providing functions that adhere to the objective of maintaining security and integrity of electronic records and signatures. These functions include: audit trails, time stamps, general security and archiving.
Click here for Brochure
(Adobe PDF)