Mettler Toledo PS60 UPS Scales / Shipping Scales - Legal for Trade
Top 5 Selling Mettler Toledo
UPS Shipping Scales
BC-15U
Plastic
BC-6LU
Stainless Steel


15 lb x 0.1oz
30 lb x 0.2oz
10.9 x 11.6 in


10 lb x 0.1 oz
70 lb x 0.2 oz
149 lb x 0.5 oz
11.8 x 13.8 in
BC-30U
Plastic
BC-60U
Stainless Steel


70 lb X 0.05 lb
12.3 x 13.9 in


150 lb X 0.05 lb
12.3 x 13.9 in
BC-150U
Stainless Steel

150 lb X 0.05 lb
300 lb x 0.1 lb
16.5 x 20.5 in
| | |
| --- | --- |
| | Legal for Trade |
Now includes stainless steel platform as standard (a $95 value!)
The Mettler Toledo PS60 is the economical scale for your parcel shipping needs
The legal for trade Mettler Toledo PS60 shipping scale is an ideal choice for PC-Based carrier shipping systems. It is compatible with shipping systems from UPS, FedEx, DHL, Airborne, and many others. Now with both RS232 and USB connection!
The PS60 UPS Scale is a member of the PS Scale Family. With it's 150 pound (60kg) capacity and rugged design, it is an ideal choice for today''s package shipper. It connects easily to a PC and is compatible with all Shipping Manifest Software applications. Now with both RS232 and USB connections!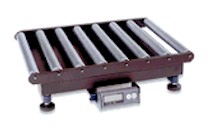 Shown with optional Roller Top Platform above

The Mettler Toledo PS60 shipping scale is NTEP certified so it can be legally used in commercial applications. The National Type Evaluation Program (NTEP) imposes rigorous standards that ensure the high accuracy and reliability of the scales that bear their mark.

The patented GEOCAL calibration feature eliminates the costly need to have the scale site-calibrated. Competitive offerings require certified technicians to calibrate their scale on-site. GEOCAL ensures accurate calibration without hiring an expensive technician.

The Mettler Toledo PS60 UPS Scale features an easy-to-read, large LCD display with viewing angle adjustment.

Step-up to Mettler Toledo quality and rely on the world's leading scale manufacturer for all your critical business shipping needs.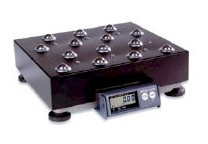 Shown with optional Ball Top Platform above
Features:
Capacity x Readability: 150 lb x 0.05 lb (60 x 0.02 kg)
Certifications: NTEP and OIML certified Legal for Trade
Calibration: The Mettler Toledo PS60 shipping scale has the patented GEOCAL feature for location specific "out of the box" calibration
PC Connectivity: The Mettler Toledo PS60 supports both RS232 and USB serial connections (comes with both a 6 foot USB cable and a 6 foot RS232 cable)
Dimensions: 12.3 x 14.3 x 3.2 inches
Display: 0.5 inch digits, LCD
Power: 12V
1 year Mettler Toledo Warranty
Capacity

150 lb x 0.05 lb
60 kg x 0.02 kg

Base Dimensions

11.8 x 13.8 in

Height (including platter)

3.2 in (8 cm)

Platter Material

Stainless Steel

Display

LCD with 0.5 inch (12.7 mm) digits

Display Mount

Base mount with 13 inch cable

Power Supply

120V AC, 9V DC wall mount with 6 foot cable

USB / RS232

Both supplied with 6 foot cable

Accuracy

NTEP COC# 95-165 A1, Canadian approval AM-5120, CE (OIML) approval T2879 for 3000d single range Class III parcel scale
Specifications Chart
Model
PS6L
PS60
PS90

Price From:

Price From:

Price From:
Capacity x Readability
0-10 lb x 0.1 oz
10-70 lb x 0.2 oz
70-149 lb x 0.5 oz

---

0-5 lb x 0.005 lb
5-25 lb x 0.05 lb
25-150 lb x 0.1 lb
150 lb x 0.05 lb

---

60 kg x 0.02 kg
300 lb x 0.1 lb

---

150 kg x 0.05 kg
Platter Construction
Stainless Steel
Optional:Ball Top
Stainless Steel
Optional:Ball Top
Stainless Steel
Optional:Ball Top,Roller Top
Dimensions (Flat Top)
11.8 x 13.8 in
29.8 x 34.8 cm
11.8 x 13.8 in
29.8 x 34.8 cm
16.0 x 20.0 in
40.6 x 50.8 cm
Computer Interface
USB & RS-232
USB & RS-232
USB & RS-232
Legal for Trade
NTEP Class III
CC #98-018A2
NTEP Class III
CC #95-165A6
Canada #AM-5120
NTEP Class III
CC #00-010A2
Canada #AM-5357
More Info
More Info
More Info