Mark-10 TST/TSTH Hand Wheel Manual Torque Test Stand



Authorized Dealer

The Mark 10 TST Torque Measurement Test Stand is ideal for a wide variety of torque testing applications up to 100 lbin, including closure torque testing, fastener torque testing, and more. The TST versatile modular design allows it to be configured for a variety of torque sensors and gripping fixtures. Ultra-smooth hand wheel operation ensures ease of use and a lever-operated slider with travel stops makes engaging and disengaging samples quick and efficient
Force Measurement >> Torque Measurement >> Mark-10

TST above


TSTH above

Now available with an optional digital angle indicator!
The Mark 10 TST Torque Measurement Test Stand is ideal for a wide variety of torque testing applications up to 100 lbin, including closure torque testing, fastener torque testing, and more. The TST's versatile modular design allows it to be configured for a variety of torque sensors and gripping fixtures. Ultra-smooth hand wheel operation ensures ease of use and a lever-operated slider with travel stops makes engaging and disengaging samples quick and efficient. The stand includes a torque loading plate with tapped holes for grip and custom fixture mounting and a resetable angle indicator. Available in vertical and horizontal orientations.
Features / Specifications:
Maximum torque: 100 lbin (11.3 Nm)
Maximum angular travel: no limit
Throat: 4.10" (104 mm)
Angular rate: 12°/ wheel rev.
Angle dial with 2° resolution (optional digital angle indicator has 0.1° resolution, see below)
Maximum slider travel: 15.5" (394 mm)
Slider travel rate: 1.047" (26.6 mm)/lever rev
Adjustable travel stops
Torque plate with tapped holes for grip and fixture mounting
Smooth hand wheel operation
Lever operated slider for engaging and disengaging samples
The TST / TSTH test stand is supplied with a wrench set

Optional Equipment
Series STJ Universal torque sensors
Mount directly to the TST. A wide range of capacities is available.
Force/torque gauge - The displays the torque readout of the STJ sensor
BGI mounting kit - For securing the BGI to the column. Height adjustable.
Digital angle indicator (shown right) - Displays cw or ccw angle in 0.1° resolution for approximately 278 rotations, resettable with "zero" button. Accurate to ±0.7°. Includes backlight. Three sets of mounting holes allow the indicator to be mounted perpendicular to, or parallel to the test stand column. It can also be repositioned along the column. Rugged aluminum housing.
Jacobs chuck grip Universal grip for samples or custom fixtures. Available in capacities of 1/4", 3/8", and 1/2". Mounts to the torque plate.
Closure grip - Universal grip for closures up to 4.8" dia.
Custom modifications - Special modifications are available, including custom-designed fixtures, increased column length, and more.
| Model | Capacity x resolution | Price | |
| --- | --- | --- | --- |
| TST | Torque stand, hand wheel-operated, vertical | $2802.50 | |
| TSTH | Torque stand, hand wheel-operated, horizontal | $2802.50 | |
| TST001 | Digital angle indicator for TST-Series stands | $950.00 | |
Dimensions:
TST: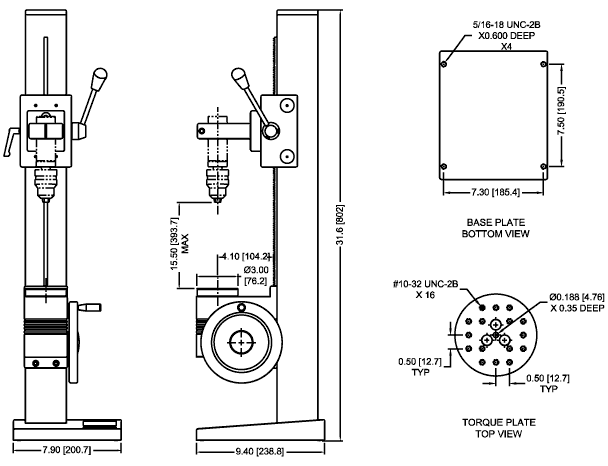 TSTH: