Mark-10 TSC1000/ TSC1000H Handwheel Operated Manual Test Stands



Authorized Dealer

The Mark-10 TSC Force Measurement Test Stand is ruggedly built for testing up to 1,000 lb of compression or tension force.A large hand wheel requires little effort, even at high loads, and a precision Acme screw and nut ensure smooth operation over time. The stand includes a loading table with threaded holes for fixture or grip mounting and a solid metal base contains a storage pocket and holes for bench mounting. Available in vertical and horizontal orientations.
Force Measurement >> Torque Measurement >> Mark-10

TSC1000 above

TSC1000H above

The Mark-10 TSC Force Measurement Test Stand is ruggedly built for testing up to 1,000 lb of compression or tension force.A large hand wheel requires little effort, even at high loads, and a precision Acme screw and nut ensure smooth operation over time. The stand includes a loading table with threaded holes for fixture or grip mounting and a solid metal base contains a storage pocket and holes for bench mounting. Available in vertical and horizontal orientations.
Features / Specifications:
Maximum force: 1000 lb [5 kN]
Maximum travel: 3.5" [89 mm]
Compatible with all Mark-10 force gauges, accessories and grips
Mounting holes for bench mounting
Loading table with 25 #10-32 UNF holes for fixture mounting
Precision Acme screw and nut
Optional digital travel display
The TSC1000 / TSC1000H test stand is supplied with a tool kit, medium hook, large hook, and a 2" diameter compression plate.
Optional Equipment
A wide range of force gauges and gripping fixtures
Digital travel display (shown right) - 6" [152 mm] travel, 0.0005" [0.01 mm] resolution, 0.001" [0.03 mm] accuracy, SPC output for automated data collection.
Horizontal / wall mounting kit - Set of mounting legs that attach to the test stand column in place of the base
Custom modifications - Special modifications are available, including custom-designed fixtures, increased column length, and more.
| Model | Capacity x resolution | Price |
| --- | --- | --- |
| TSC1000 | Test stand, hand wheel-operated, 1,000 lb, vertical | $1396.50 |
| TSC1000H | Test stand, hand wheel-operated, 1,000 lb, horizontal | $1396.50 |
| TSC001 | Digital travel display for TSC/TSCH | $665.00 |
| TSA002 | Horizontal/wall mount kit for TSA/TSC | $152.00 |
| AC1004 | Mounting kit, BGI to TS-Series test stands | $85.50 |
Dimensions:
TSC1000: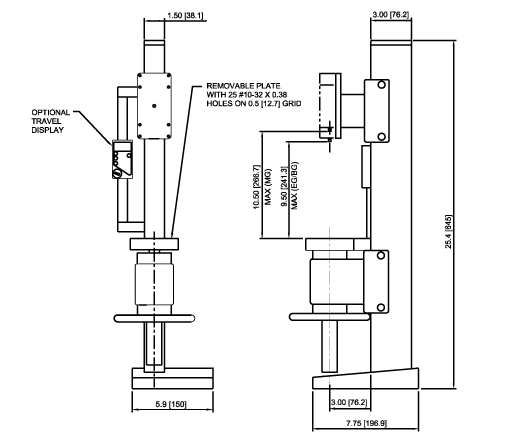 TSC1000H: