Mark-10 TSA750 / TSA750H Lever Operated Manual Test Stands



Authorized Dealer

The lever operated Force Measurement Test Stand Model TSA is a perfect solution for quick-action pull testing and compression testing of up to 750 lb of tensile or compressive force. Made of rugged, machined aluminum components, this test stand is durable enough for the factory floor, yet precise enough for laboratory environments
Force Measurement >> Torque Measurement >> Mark-10
Mark-10 TSA750 Test Stand

Mark-10 TSA750H Test Stand

The lever operated Force Measurement Test Stand Model TSA is a perfect solution for quick-action pull testing and compression testing of up to 750 lb of tensile or compressive force. Made of rugged, machined aluminum components, this test stand is durable enough for the factory floor, yet precise enough for laboratory environments. The test stand includes adjustable travel stops and a frictional low force brake. Available in vertical and horizontal orientations.
Features / Specifications:
Maximum force: 750 lb [3.75 kN]
Maximum travel, with stops: 3.75" [95 mm]
Maximum travel, without stops: 6" [152 mm]
Travel rate: 3" [76.2 mm]/lever revolution
Compatible with all Mark-10 force gauges, accessories and grips
Loading lever can be positioned in 30° increments for ease of operation
Threaded holes for bench mounting
Adjustable travel stops
Precision ground rack and pinion mechanism
Adjustable wear plates for smooth, precise motion
Optional digital travel display
Friction brake
The TSA750 / TSA750H is supplied with a tool kit, medium hook, large hook, and a 2" diameter compression plate
Optional Equipment
A wide range of force gauges and gripping fixtures
Digital travel display (shown right) - 6" [152 mm] travel, 0.0005" [0.01 mm] resolution, 0.001" [0.03 mm] accuracy, SPC output for automated data collection
Horizontal / wall mounting kit - Set of mounting legs that attach to the test stand column in place of the base
Custom modifications - Special modifications are available, including custom-designed fixtures, increased column length, and more.
| Model | Capacity x resolution | Price |
| --- | --- | --- |
| TSA750 | Test stand, lever-operated, 750 lbs, vertical | $1073.50 |
| TSA750H | Test stand, lever-operated, 750 lb, horizontal | $1073.50 |
| TSA001 | Digital travel display for TSA750/TSA750H | $707.75 |
| TSA002 | Horizontal/wall mounting kit for TSA/TSC | $161.50 |
| TSA003 | Table assembly for TSA750/TSA750H | $218.50 |
| AC1004 | Mounting kit, BGI to TS-Series test stands | $90.25 |
Dimensions:
TSA750: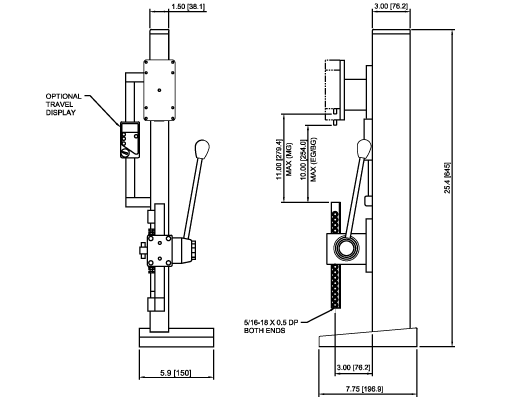 TSA750H: