When used as a handrail scale, the stable handrail provides a safe hold for persons having difficulty standing. Seca has engineered the handrails to account for weight leaning on the rail, ensuring a safe and comfortable weighing experience.
When used as a chair scale with the seat down, the 684 provides a comfortable solution especially for patients with circulatory trouble. For convenience, the seat can be mounted on either side. And, for ease of use, the seat can be folded or raised with only one hand.
When used as a wheelchair scale, the weight of the wheelchair is simply tared away with the pre-TARE function. Special design consideration has been placed with regard to the large 80 x 85 cm platform -- it is easy to roll the wheelchair on, and a barrier for the front wheels of the wheelchair provide additional safety.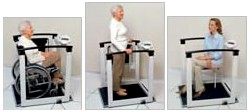 The Seca 684 Combo Medical Scale: it's a wheelchair scale, a handrail scale and a chair scale -- all in one unit!
Capacity: 800 lbs / 360 kg
Graduations: 0.2 lb / 100 gm
Easy to read display - display swivels at hip level
Hold function - weighing result is displayed after the patient has left the scale
Damping function ensures precise results -- compensates for patient movement
Non slip rubber tread on base and handrails for patient safety
Integrated wheels for mobility
Functions: tare, hold, pre-tare, damping
Product Dimensions (HxWxD): 40-1/2 x 36 x 44-5/8 inches (910 x 1100 x 965 mm)
Base Dimensions: 31 x 44 inches (80 x 85 cm)
Power supply: AC adapter
Warranty: 2 years
Seca 684 Bariatric Scale
shown with seat down for use as a chair scale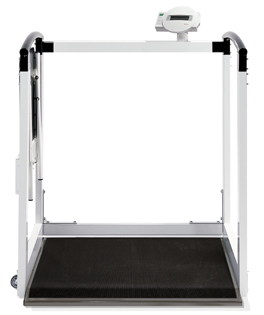 Seca 684 Bariatric Scale
shown with seat up for use as a handrail scale