Salter Brecknell DCSE Pegasus Digital Floor Scales
More than 200 years ago Richard and William Salter created the first spring balance. In doing so they have founded one of the most respected names in the weighing industries, "SALTER". Salter has remained a leader in the weighing industry throughout the years, and will continue to bring you top of the line products with the latest technology available.
Salter Brecknell Pegasus digital floor scales can be used in a wide range of industrial weighing applications up to a capacity of 5000 lb.
Rugged Construction - Fabricated from strong 1/4 " thick anti-slip checker plate with specially positioned 1/4" ribbing to guarantee protection from every day wear and tear when loading and unloading with fork trucks, pallet jack and wheeled bins.
Strength and Reliability - Designed to withstand the day to day point loading expected from fully loaded pallet jacks and steel bins
Finish - Hard wearing light gray powder coating gives extra protection to the floor scale when in use
Loadcells - Fitted with four 5000d NTEP approved nickel plated, alloy tool steel shear beam loadcells which help to supply accuracy and performance at an affordable price.
Health and Safety - Two threaded top access eye bolt holes ensure safety when lifting and installing
Leveling Feet - Quick and easy to install, four top access holes in the deck structure allow quick and easy access to all leveling feet
5000 lb Capacity with 1 lb Readability – Suitable for most legal for trade applications (NTEP pending)
Specifications
Platform Material – Construction mild steel 1/4" deck with steel tread
Finish – Powder coat paint
Weighs in both pounds and kilograms
J-Box Construction – ABS plastic
Floor Scale Strength:

Axle loading: 3300 lb (1500 kg)
Point loading: 1650 lb (750 kg) over an area of 3" x 4"
Uniformity distributed load: 6600 lb (3000 kg)

Loadcell Material – Nickel plated alloy tool steel potted
Loadcell Rated Output – 3 mv/V
Loadcell Output Resistance – 350 ohm
Loadcell Overload Protection – 150% of rated capacity, based on 2500 lb loadcells
End Loading – 100% of rated scale capacity
Temperature – 14° F to 104° F (-10° C to 40° C)
Accuracy – 1:5000 divisions
Approvals – NTEP pending (-200E models)

Model
Price
Capacity
Indicator
Dimensions
Shipping Weight
DCSE-4848-05-SBI
$995
5,000 x 1 lb
(2500 x 0.5 kg)
48 x 48 x 3.1 in
(122 x 122 x 7.9 cm)
251 lbs
DCSE-6060-05-SBI
$1295
5,000 x 1 lb
(2500 x 0.5 kg)
60 x 60 x 3.1 in
(152 x 152 x 7.9 cm)
251 lbs


Optional Floor Stand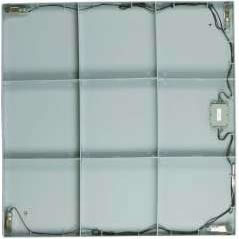 Underside view of 60" x 60" with 1/4 thick structural ribbing