Ships with crane scale, swivel hook, shackle assembly, maximum pointer, zero adjust, wooden shipping/storage crate and calibration certificate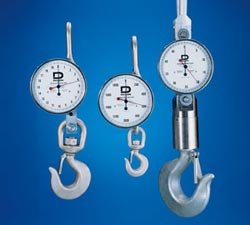 Proven reliability and performance
Accuracy: to +/-0.5% of full scale
Tare adjustment: up to 20% of full scale range
Ultimate safety factor: 5:1 (4:1 for 20,000 lb, 50,000 lb, 10,000 kg and 20,000 kg)
Dial diameter: 10"
Scale length: (from inside of eye to inside of hook)

Low Range: 25-1/2"
Medium Range: 29-3/4"
High Range: 37-1/2"
Available in low, intermediate and high range models in either pound or kilogram models: 13 capacities from 500 to 50,000 pounds and 9 capacities from 200 to 20,000 kg.
Anti-parallax dial and pointer - easy to read even at an angle
Tare capability - tare loads up to 20% of caqpacity can be zeroed out with zero control
Dust protection - pinion gear, sector gear and shafts are mounted in precision aircraft bearings, permanently sealed against dust and dirt. Oiling is never required
Tough construction - mechanism case is a heavy aluminum allow casting, tough enough to resist even heavy blows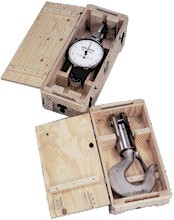 Ingenious design - utilizes a specially designed allow steel beam that translates force to pounds. Full scale reading results from beam deflection of only 0.026". Applied loads are indicated instantly.
Reduced wear - pinion and sector gears are cut from stainless steel and hardened aluminum. Use of these dissimilar materials greatly reduces friction and wear
Protective finish - scale cases are coated with a baked-on powder paint process making them resistant to chips, scratches, rust and corrosion
Maximum indicator - remains in position to indicate peak load point after load is removed from the scale

Storage boxes for Dillon AP series mechanical crane scales