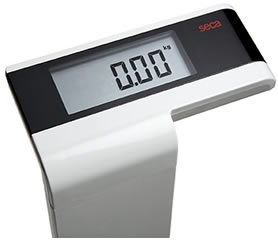 Slim, sleek, simple. Who would believe that so much stability is built into this shape? The Seca 719 Supra pedestal scale features ABS plastic guards against shock and scratches, safety glass resists impact, and an additional connection securely joins the base and pedestal. Then there's the unique step-off function for weighing without switching on the scale.
Capacity: 400 lbs (180 kg, 28 sts)
Graduation: 0.2 lbs (100 g)
Dimensions: 350 x 955 x 435 mm
High Capacity
Robust Design
Step-off function for weighing without
switching on scales
Superior quality for international use
Display on a high pedestal. For easy reading
High stabile for demanding users.
The Seca 719 Supra is a scale with the basics: this comfortable column scale dispenses with complicated controls and concentrates on precise weight determination. It is easy to operate and therefore very user-friendly and ideal also for the professional sector. Further convincing features are the elegant, simple design, the stability and high capacity of the Seca Supra 719.
High capacity, robust design: The Seca Supra 719 provides strength and stability which is reflected in the straight-line design and slim column. A large, robust glass platform makes the scale easy to step on. And, with its capacity of 180 kilograms, it is also suitable for weighing very heavy people.
Step-off-function: With the step-off function, the scale is automatically reset to zero at every step, taking changes in the environment into account. When stepping down off the platform, the precise weight is automatically shown on the display.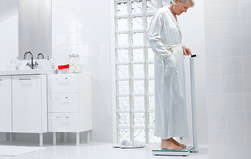 Superior quality for international use: The basic plastic construction and glass platform of the Seca Supra 719 are combined with stainless steel elements. First-class workmanship, with high-quality materials, guarantee a long life and particularly high stability. The column scale is easy and safe to transport. And, due to the integrated kg/lbs/sts switch-over, it is ideal for international use.
The Seca 719 is well-suited for fitness centers, hotels and private households.