Imada DSW-15 and DSW-2- are lightweight digital torque testers / torque wrenches with 1/4" drive, 130 lb-in capacity and stepless one way clutch
Ergonomic and light weight, yet ruggedly constructed
Available in: lbf-in, oz-in, kg-cm, N-cm and N-m (specify units when ordering)
Peak, Real Time and Peak Down measuring mode (selectable)
400 data memory for recall or for SPC download
Programmable High and Low setpoints with both audible beep and Green/Red LED indicator for uniform torque tightening or GO/NO GO testing
Programmable screw tightening counter
Programmable Auto Zero function resets unit to zero for easy operation
Clockwise and Counterclockwise operation
RS-232 output for SPC capability
Runs on internal NiCad batteries (for 8 hours) Auto shut-off after 10 minutes of non-use
AC charger and clockwise stepless one-way clutch adapter included.
Imada DW-15 digital torque wrench is ergonomically designed, extremely lightweight and good for use as a production tool. It tightens or loosens bolts up to 130 lb-in, yet can be used in difficult to reach places. Torque controlled wrenches can also be evaluated by comparative tests on a given fastener. Both breakaway and loosen tests can be performed.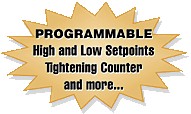 The Imada DW-15 torque tester has an accuracy of +/-0.5%, +/- 1 LSD. It offers a programmable setpoint for uniform tightening or Go/No Go testing and also provides data for SPC (statistical process control) via the RS-232 port.
The Imada DW-15 digital torque wrench reduces scrap and rework costs by eliminating over and under tightening. It is ideal for use in a wide variety of applications including the manufacture of electronic, appliance and aerospace assenblies.
DW-15 Ranges (Accuracy: +/-0.5% F.S. ±1 LSD
Model

Capacity
DSW-15
3.0 – 130.0 lbf-in
(Factory standard)
DSW-20
3.0 – 180.0 lbf-in
(Factory standard)