Sartorius Cubis-II Modular Lab Balances



Authorized Dealer

Users can choose from thousands of options to configure their balance to suit their individual needs and obtain the optimal solution for integration into their process. But we didn?t stop at this level of innovation: when customers require a perfect solution to allow them to incorporate the lab balance into their processes in a fully individual way, configurability is simply not enough. We provide an elegant software solution that needs no additional laptop to implement a fully individual profile of specifications ? from the integration of data into the infrastructure of the software to the complete control of the weighing process ? and beyond. Your benefits: quick, clearlydefined processes
Sartorius Scales >> Analytical Laboratory Balances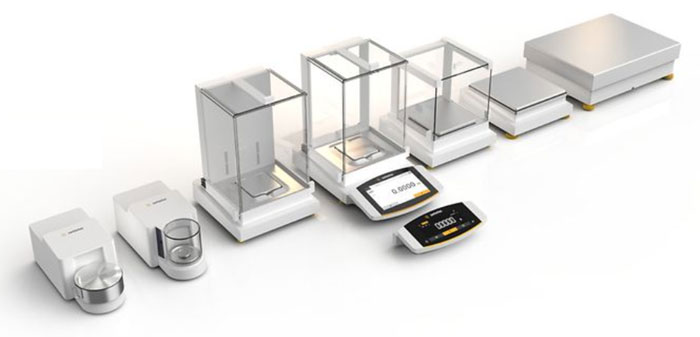 Full Line of Sartorius Cubis II Balances
Series
Cubis II
0.0001 mg
Cubis II
0.001 mg
Cubis II
0.01 mg
Cubis II
0.1 mg
Cubis II
1 mg
Cubis II
0.01 g
Cubis II
0.1 g
Cubis II
1 g
Price From
$35968.50
$21060.00
$10238.25
$5627.00
$4709.00
$3582.75
$2979.25
$5078.75
Capacity x Readability
2.1 g x 0.0001 mg
1.1 g x 0.001 mg
2.1 g x 0.002 mg
3.1 g x 0.005 mg
6.1 g x 0.001 mg
10.1 g x 0.001 mg
60 g x 0.01 mg
120 g x 0.01 mg
220 g x 0.01 mg
120 g x 0.1 mg
220 g x 0.1 mg
320 g x 0.1 mg
520 g x 0.1 mg
320 g x 1 mg
620 g x 1 mg
1200 g x 1 mg
2200 g x 1 mg
3200 g x 1 mg
5200 g x 1 mg
1200 x 0.01 g
1500 x 0.01 g
3500 x 0.01 g
6200 x 0.01 g
8200 x 0.01 g
10200 x 0.01 g
14200 x 0.01 g
5200 x 0.1g
8200 x 0.1g
12200 x 0.1g
11200 x 0.1g
20200 x 0.1g
36200 x 0.1g
50200 x 0.1g
70200 x 0.1g
36,200 x 1g
70,200 x 1g
Calibration
Internal
Internal
Internal
Internal
Internal
Internal
Internal
Internal
Interface
RS232 ,Network
RS232 ,Network
RS232 ,Network
RS232 ,Network
RS232 ,Network
RS232 ,Network
RS232 ,Network
RS232 ,Network
Units of measurement

Milligrams,Grams,Carats ,Grains , Ounces, Pennyweight, Troy Ounces

Milligrams,Grams,Carats ,Grains , Ounces, Pennyweight, Troy Ounces

Milligrams,Grams,Carats ,Grains ,Pounds, Ounces, Pennyweight, Troy Ounces, KiloGrams

Milligrams,Grams,Carats ,Grains ,Pounds, Ounces, Pennyweight, Troy Ounces, KiloGrams

Milligrams,Grams,Carats ,Grains ,Pounds, Ounces, Pennyweight, Troy Ounces, KiloGrams

Milligrams,Grams,Carats ,Grains ,Pounds, Ounces, Pennyweight, Troy Ounces, KiloGrams

Milligrams,Grams,Carats ,Grains ,Pounds, Ounces, Pennyweight, Troy Ounces, KiloGrams

Grams,Carats ,Grains ,Pounds, Ounces, Pennyweight, Troy Ounces, KiloGrams

more info
more info
more info
more info
more info
more info
more info
more info
Free Shipping
Free Shipping
Free Shipping
Free Shipping
Free Shipping
Free Shipping
Free Shipping
Free Shipping
Cubis® II user interfaces
Advances User Interface MCA




Large 7? color touch display including touch, scroll, swipe functionality with factory installed essential weighing applications and diverse QApp Packages for optional software extension. Features:

High-performance touch screen with high resolution and brilliant colors
Modern user guidance with outstanding ease of use, even in complex lab situations

Essential User Interface MCE




Large, high-contrast touch display with factory-installed essential weighing applications for easy operation of highest weighing performance. Features:

For users who do not have complex applications but need to weigh with the highest level of accuracy
High-contrast touch display with clearly structured functionality
Easy-to-use essential weighing applications included
Cubis® II For Unlimited Communication: Connectivity And Interfaces
Key benefits of integrating your lab instruments into your LIMS or ELN includes:
Better data quality and integrity by eliminating manual data transcription errors
Increased operational efficiency and productivity
Interfaces - ubis® II balances with an MCA interface have three standard-equipped interface ports: USB A, B, C, RS232, and Ethernet. The USB interface allows maximum connectivity through integration of further optional interfaces, such as WLAN.
Configurable Printout - The Cubis® II offers you the ability to freely select information for printing. Using a Sartorius YDP30 printer also allows you to print barcodes and QR codes. Printing via a network printer is also possible.
USB as a Storage Medium - Transfer user master data or tasks easily and securely between Cubis® balances with a USB stick.
Communication Protocols Different software connectors allow easy data exchange over Ethernet.
File transfer in text, PDF, or other formats to an FTP or windows file server.
Cubis® II is standard-equipped to support ASCII and SICS communication protocols, allowing bidirectional data transfer to LIMS. Have your balance communicate with other manufacturers? software.
Sample Holders for ergonomic weighing and error free weighing tasks
New accessories, which make lab life easier
Choose from 12 different sample holders designed for great variety of vials, flasks and samples.
Faster response time, better weighing stability
Made of high quality titanium, preventing corrosion and magnetic influences.
Filter Pan - The new filter pan YSH30 enables flawless weighing of filters up to a diameter of 150mm, designed for semi-micro and analytical balances. 50mm (YSH34), 75mm (YSH35) and 90 mm (YSH36) filter holders are available for ultra-micro and micro balances.
Save-Lock Tube Holders - The new holders for reaction tubes up to 2 mL (YSH13 for micro-balances and YSH15 for semi-micro and analytical balances) and up to 5mL (YSH19 for semi-micro and analytical balances) enables easy and safe positioning of Eppendorf tubes and centrifuge reaction tubes on the balance.
Holders for vials and round bottom flasks - The new holder YSH37 allows easy positioning of round-bottom flasks or without a fixed stand on the weighing pan.
Syringe Holder - The new holder YSH46 allows easy positioning of different sizes of syringes on the weighing pan. Enables flawless weighing of filled or unfilled syringes for example for calibration.
Holder for Weighing Boats or Papers - The new holder YSH26 allows easy positioning and secure fixation of weighing boats or weighing papers on the pan. Moreover, also reduces influences of electrostatic influences because Faraday Cage Effect.
Vials Holder - The new reaction tube holder YSH23 enables easy positioning in different directions for easy dosing of substances into the tube opening for different sizes of reaction tubes
Cubis® II QApps ? The Cubis® II Lab Balance Software Concept
QApp-Packages are software programs (QApps), for instance, lab applications, functions, or utilities. After licensing, these QApps can be activated and run in a task.
The licenses for the QApp-Packages can be ordered together with the balance. All packages are pre-installed on the balance and ready for use after delivery.
In the QApp-Center, browse through the packages to get information about their content, in detail.
We suggest ordering our all-inclusive Package QP99, which includes an incredible price advantage.
The Future-Proof Balance
Flexibility to extend and update QApps.
QApps can be modified if they do not fit 100% in your workflow
Because QApps are compact and clearly structured, they are easy to validate, with reduced testing efforts
QApps feature an iterative software development cycle for the complete life of the application
Long-term flexibility guarantees adaptation to evolving regulatory and laboratory needs.
The QAPP Packages ? Take Your Choice
QApp Packages ? Essential Applications For The Cubis® II Lab Balance Included in every Cubis® balance ? no need to be licensed:
Mixing
Statistics
Totalization
Solids density
Percentage weighing
Multiplication
Averaging
Checkweighing
Highest peak value
Counting
Onboard QApp Center - Choose your applications or individual balance functions from QApp packages clustered by different topics. License your selected package and integrate them into the tasks you can run on the balance. Easy Use
Start the QApp in a ?Task? you can start it and run the application.
The QApp guides you through the workflow and gives you support to get reliable results.
Depending on the QApp, you can present your results with statistics, in numbers, or graphically.
Results can be print out on the suggested Sartorius printer or on a standards network printer.
Pharma Package QP1 - The Pharma software application package contains applications concerning the topic compliance with pharmaceutical-relevant guidelines as 21 CFR Part 11 and USP 39, Chapter 41. The Pharma package includes applications such as user management, digital signatures, audit trail, USP minimum weight. - User Management, Electronic signature, Audit Trail, minUSP, USP Advanced, Measurement Uncertainty, User Calibration
Advanced Package QP2 - The Advanced software application package includes various complex weighing applications incl. evaluation. This includes applications used for density determination, percentage weighing, counting, backweighing, residual dirt analysis, residue on ignition, sieve analysis, filter weighing, checkweighing, formulation, averaging, etc. - Density of solids, Density of liquids, Density with Pyknometer, Percentage Weighing, Counting with reference weight, Counting with check weighing, Counting with statistics, Backweigher with up to 10 batches, Residual dirt analysis, Residue on ignition, Sieve analysis, Filter particulate matter, Check weighing with counter, Manual or automatic Totalizing, Manual or automatic Totalizing, Formulation single vessel, Formulation flexible tare, Manual or automatic Totalizing, Averaging with statistics, Averaging with Checkweighing, Averaging with Backweigher
Utilities package QP3 - The Utility software application package contains weighing applications and function extensions such as bootscreen, color scheme, free formula, fiber coarseness, diameter determination, air buyoancy correction, paper weight, statistics and printing of QR | bar codes. - Bootscreen, Color scheme, Free formula, Fiber coarseness, Diameter determination, Paper weight, Air buoyancy correction, Statistics manual, Statistics automatic, Configurable output
Connectivity package QP4 - The Connectivity software application package includes applications for data exchange, for example to Windows file server, FTPS, StarLims, etc. - Connector Windows File Server, Connector FTPS, Connector StarLIMS, Connector EXCEL
All Inclusive Package QP99 - The software application package All inclusive includes 4 different sub-packages for compliance (Pharma (QP1)), complex weighing applications (Advanced (QP2)), weighing applications and helpful tools (Utilities (QP3)) and connectors for data exchange (Connectivity (QP4)).
The Cubis® II Status Center
Cubis® II includes a diagnosis and monitoring system with a dashboard display for warnings or errors and environmental conditions, allowing users to see relevant information at a glance
The dashboard also displays an evaluation of signals from integrated sensors, such as temperature, humidity, air pressure, and levelling
Cubis® II not only shows what is wrong but also offers support for warning and errors
The Status Center displays complete device information, such as model designation, serial number, firmware package version, QAPP Center version, and IP address at a glance
Automatic monitoring of device status prevents erroneous measurement results through use of a non-calibrated or non-leveled device, for instance.
Beginning July 2019, the Status Center will also offer remote and predictive services
Draft Shields for Cubis® II
Optimal Protection Against Drafts And Electrostatic Charges
Optimal protection against external influences guarantees highest weighing accuracy
High glass transparency panels guarantee outstanding visibility of the weighing pan and the surrounding working area
Conductive coating on the glass panels reduces the influence of external electrostatic charges
LED light in Ultra-Micro and Micro balances allow fatigue-free work, even with the smallest sample sizes
Cubis® IIdraft shields feature high mechanical stability
Doors open effortlessly and glide smoothly and silently
The Cubis® II is Well-Protected Against Spillage of Liquids And Powders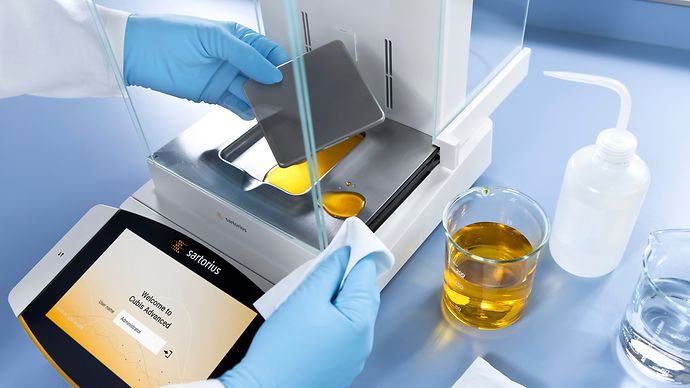 All parts of the draft shield can be removed quickly and easily for thorough cleaning. In seconds, the balance will be ready again for your measurements.
The weighing pan is made of Titanium (for Ultra-Micro, Micro, Analytical and Semimicro balances) with the following characteristics:
highly resistant against corrosion, even with aggressive substances
reduction of magnetic influences, a potential problem in high-resolution balances
For Analytical and Semi-Mirco models, the draft shield base plate is made of high-grade stainless steel.
For Ultra-Micro and Micro models, the draft shield base plate is also made of Titanium.
Cleaning The Draft Shield Glass Panels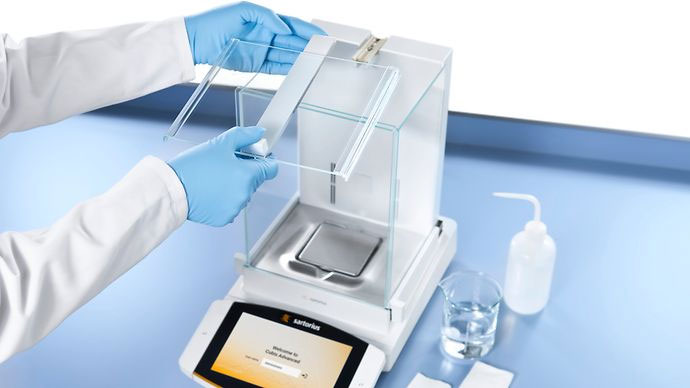 For cleaning, all doors of the draft shield can be disassembled in just a few steps, without compromising the stability of the entire unit.
Draft Shield M

Automatic draft shield for ultra-micro and micro balances with learning function; for models with 0.001 mg or 0.0001 mg readability



Draft Shield F For Filter Weighing

Manual stainless steel draft shield specially designed for highly-accurate weighing of filters; for balances with 0.001 mg or 0.0001 mg readability (weighing modules 10.6S, 6.6S, 3.6P or 2.7S).



Draft Shield I

Automatic draft shield with integrated ionizer and with learning capability for semi-micro and analytical balances



Draft Shield A

Automatic analytical balance draft shield with learning function for all models with 0.01 mg, 0.1 mg or 1 mg readability and for model 5202S.


Draft Shield U

Manual analytical balance draft shield for all models with 0.01 mg, 0.1 mg or 1 mg readability and for model 5202S.



Draft Shield E

Manual draft shield for all models with 1 mg readability and for model 5202S.



Draft Shield R

Removable, flat draft shield frame made of stainless steel for all models with 1 mg readability and for model 5202S.





The New Generation of Modular Premium Laboratory Balances

For scientists in R&D and analytical laboratories needing the most reliable lab weighing results, the Cubis® II from Sartorius is a completely configurable, high performance portfolio of balance hardware and software that will align with your unique demands and compliance requirements to maximize operational efficiency and experimental outcomes.

All modules of the Cubis® II balance were designed for an intuitive operation, further aided by intelligent diagnostic systems. These design elements guarantee a higher degree of repeatability for different workflows while lowering the probability of human error during measurement.

Trusted Results The Cubis® II balance offers several advantages over other lab balances:
Leading Performance: the Cubis® II balance offers best-in-class performance, including high-capacity and high readability, regardless of sample type
Error-free Operations: Ensure a high level of trust and transparency by using Cubis® II?s functionality to assess relevant factors during data acquisition.
Full End-to-End Data Integrity: Ensure your data is reliable and cannot be manipulated with Cubis® II?s user management function and LIMS connectivity.
Reliable Support: Our lab weighing team provides expert support to help ensure your success, even when making very specific and/or unique requests.
The modular weighing system Cubis® II can be individually configured from different components. The combinability of the display unit, weighing module, draft shield, software packages for various applications and functions and a comprehensive range of accessories allows the individual adaptation of the Cubis® II balance to all weighing tasks. The Cubis® II range of premium laboratory balances with a maximum load between 2.1 g and 70 kg and a readability between 0.1 ìg to 1 g provide the ideal model for every application.

Cubis® II Display and Control Units
Advances User Interface MCA




Large 7? color touch display including touch, scroll, swipe functionality with factory installed essential weighing applications and diverse QApp Packages for optional software extension. Features:

High-performance touch screen with high resolution and brilliant colors
Modern user guidance with outstanding ease of use, even in complex lab situations

Essential User Interface MCE




Large, high-contrast touch display with factory-installed essential weighing applications for easy operation of highest weighing performance. Features:

For users who do not have complex applications but need to weigh with the highest level of accuracy
High-contrast touch display with clearly structured functionality
Easy-to-use essential weighing applications included