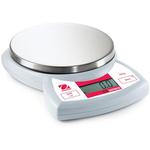 Are you looking for an easy to use multi-purpose scale for the home, workshop, classroom, or lab? Ohaus has been a leading manufacturer of precision weighing products for the past century has a simple and inexpensive solution for you. The "go anywhere" Ohaus CS series of scales should be your first choice.
The CS series comes with a removable stainless steel weighing surface, so clean-up is a breeze. Worries of contamination from use in the kitchen, or mixing of chemicals is not an issue here.
The CS series is extremely easy to use with only two buttons for operation. One button is for On/Off and Tare (Zero), and the other is to switch between the different weighing modes of grams, ounces, pounds and ounces, and newtons (varies according to model). The two button operation also makes calibration a snap (calibration weights are not included). With the right size calibration weight (depends upon model) you can insure that your CS scale is accurate every time and anytime.
The Ohaus CS scales are calibrated and tested at the factory, and are ready to go once they arrive to you via our FREE ground shipping. Simply plug-in the included AC adapter if you are using the scale in a permanent area such as a mailroom. Or you can "pop-in" the included three "AA" batteries if you need to use the scale on the go, such as a Boy Scout Pinewood Derby.
Ohaus's care about environmental impact is shown through the technology of the CS series. The average battery life of the CS series is approximately 300 hours (battery life can vary due to operating temperature), and has an automatic shut-off feature. If the scale does not detect any use within a five minute period it will shut-off (during battery operation only). This simple feature helps save you money and the environment.
With all models of the CS Series weighing less than one pound and priced under $100 they are easy to carry and easy on your wallet.
All CS Series scales are covered against manufacturer defects and flaws in workmanship for a period of one year from date of purchase under Ohaus's warranty.