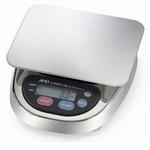 AND is renowned for its innovations and quality products used in science, medicine, research, and the home.  The AND Weighing Division is an ISO 9001 certified company, which specializes in laboratory balances, industrial scales, moisture analyzers, and digital scale indicators.

Those in the food service industry as well as those in harsh manufacturing environments need a scale that can handle whatever might be "thrown", splashed, sprayed, "dumped", or spilled on it.  The AND HLWP series of scales can handle it all.

Every HLWP is constructed with a sealed stainless steel housing that prevents even the tiniest bits of dust or drops of water from getting inside.  The IP65/NEMA-4X (IP= International Protection Code, NEMA= National Electric Manufacturers Association) rating lets you know that the HLWP can be completely submerged in water for over three minutes with no damage or corrosion (the optional AC adapter part number FV-05 is not waterproof).  This makes the HLWP series "dishwasher" safe, so clean-up could not be simpler.  The HLWP is perfect for hazardous chemical labs, breweries, wineries, and dairies.  The internal components of every HLWP scale is temperature compensated and can safely operate in temperatures from 14°F to 104°F (-10° C to 40°C).

The HLWP series has six different models available with capacities ranging from 300g to 3kg all of which can operate on six "AA" batteries (not included).  For those in food service or selling at outdoor markets AND offers the HLWP series in two NTEP approved (legal for trade) models, the HL3000WPN (pan size 5" x 5") and the HL3000LWPN (pan size 6.8" x 5.4").  All HLWP models are also NSF (National Sanitation Foundation) approved, so you don't have to just take our word as to the reliability and the level of cleanliness you can achieve with these scales.  The NSF is an independent lab testing organization recognized around the world, and insures that every product that bears its mark meets or exceeds their standards for public health and safety. 

AND also covers each HLWP scale with a two year manufacturers warranty against defects and flaws of workmanship.