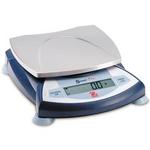 The Ohaus scout pro has been one of the longest and best selling scales for portable and stationary weighing. The scales have been on the scale market for over 10 years and trusted by tens of thousands of jewelers , laboratory technicians , food weighing, animal weighing, and many other scale weighing applications.

The Ohaus scout pro has always found its niche in the market by offering so many capacities that it can weigh almost anything under 13lbs or 6,000 grams. It has precisions or accuracies of 1mg , 1 tenth of a gram, 1 one hundredth of a gram and 1 gram. Some of the smaller capacities come with free calibration weights but all models can be calibrated with an external calibration weight.

All models fit in a standard Ohaus carrying case for easy travel which makes this a perfect scale for on the go weighing or stationary weighing with protection from being dropped. The Ohaus scout also comes with safe overloads so in the event you do put more weight on it than the scale can weigh up to, it will not automatically damage the scale. The scales also have many weighing modes such as grams, ounces , troy ounces and penny weights. In addition the scales are extremely light . The scale weighs approximately 2 lbs which makes it a favorite for transport. The ohaus scout pro also has a parts counting mode which is great for inventory checks or pill counting by pharmacies. With so many weighing applications available to it, its no wonder this scale is one of the best selling portable scales available today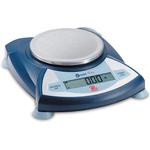 A scale is an invaluable tool to a business that needs to weigh regularly. We've found jewelers are selling or weighing there gold now more than ever thanks to the increased price of gold or chef's are weighing there ingredients for best results or even schools have replaced there old fashioned triple beam scales or other mechanical scales with the ohaus scout pro. We have even found the scales in blood banks and retail shops because they fit perfectly in a corner shelf or they went traveling with individuals having gold parties regularly

The ohaus scout pro can be powered by batteries or an ac adapter which comes included with every model purchased. The scales also include a weigh below hook which is critical for density and specific gravity determination. The Ohaus scout can also be interfaced with an RS-232 serial connection or a USB connection. Ohaus recently began selling a USB plug in kit or the RS-232 serial kit which can be added at the time of purchase or anytime after purchase thanks to its simple plug and play feature. Another feature recently added by Ohaus is a bubbling leveler which will help insure your scale is always leveled and prevent inaccurate readings. There is also a security bracket on the scale which will accommodate a security lock.

Its no wonder the boy scouts of America loves the Ohaus scout pro for preparing their race cars for the pinewood derby scout race. The ohaus scout also comes with a 2 year warranty.

Next time you need a scale try the Ohaus scout pro, we know you wont be disappointed.