Sartorius M-PROVE Portable Scales Specs:
M-Prove Model
AY6000
Images
Price
Capacity
6000 g
Readability
1 g
Linearity
± 1g
Repeatability
± 1 g
Calibration
500g, 1000g, 2000g
Stabilization Time
(average)
2 seconds
Weighing Modes
Grams, Pounds, Ounces, Grains, Pennyweight, Newtons, Taiwanese Taels, Hong Kong Taels, Singapore Taels, Chinese Taels, Carats, Troy Ounces, User defined
Applications
Mass unit conversion, Counting, Percent weighing, Display Hold, Totaling, Specific Gravity
Tare Range
Tare Range To capacity by subtraction
Pan Size/ Type
3.8" inch (97 mm) diameter
stainless steel pan (reversible)
Overload Protection
Built-in stoppers yield maximum overload protection
Overload Indication
Displays "oL"
Underload Indication
Display "uL"
Auto Off (menu select)
2, 5 & 10 minutes
Storage Temperature
4°F to 122°F (-10°C to 50°C)
Operating Temperature
50°F to 86°F (10°C to 30°C)
Operating Humidity
Less than 95% Relative Humidity
Display Type
White Backlit LCD
Audio Tone
No
Low Battery Indication
No battery operation
Power Requirements
12V AC adapter (included)
Power Consumption
One Watt (average)
Housing Construction
ABS Construction
Dimensions (WxDxH)
6.8" X 9.8" X 3.15"
(includes top cover)
Net Weight (kg/lbs)
1.3 kg / 2.9 lbs
Included Accessories
Flip-down Cover and AC Adapter
Others
Built-in lock down bracket
Unique state-of-the-art features not found in other scales
- Stackability for convenient, safe storage that saves valuable counter space
- Integrated weight chamber, simplifies calibration
- Reversible weighing pan allows greater flexibility in weighing samples
Sartorius M-PROVE Portable Scales:
- 13 models (enhanced by two milligram units)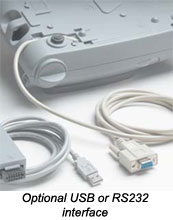 - Rugged housing made of ABS plastic with maximum overload protection
- Protective flip-down and removable plastic cover for shipping protection and stackable storage
- Integrated external calibration weights on models with capacity of 710 grams and below
- Unique durable design for multiple applications
- Applications include: Counting, Percent Weighing, Totaling, Display Hold, Specific Gravity, Mass Unit Conversion
- 14 Mass unit conversions - grams, ounces, pounds, pounds:ounce, pennyweight, troy ounces, grains, Newton, carats, Taels HK/Taiwan/Singapore/China, user defined
- Optional RS-232 or USB interface kit (field installable)
- Parts counting with selectable reference sample (1-100)
- Included AC adapter (or optional 9 volt battery operation excluding milligram models)
- External "one button" calibration with 3 weight options
- Large "1 inch" white back-lit display
- Glass ring, leveling bubble and adjustable feet included on all milligram models
---
Sartorius, a leader in laboratory mechanics for over a century, has recently introduced a new line of economical portable balances called the M-Prove series. The M-Prove balances were developed to be accurate for use in laboratory applications yet rugged enough to take on the road. The intuitive design of the M-Prove series is simple enough that first-time scale users can easily and immediately start working with the balance efficiently and without the fear of errors. This also makes the M-Prove series ideal for use in the classroom or school labs.

The Sartorius M-Prove series balances offer flexibility in both weighing and portability that is beyond what normal analytical scales can usually offer. Ranging in capacities from 120g to 10kg and readability from 0.001g to 1g (depending on model), the range of the M -Prove series ensures that you will be able to find the right scale to suit your application and budget.

The M-Prove series features 14 weighing modes, including grams, pounds, ounces, grains, pennyweight, newtons, multi-regional taels, carats, troy ounces, and even a user defined mode. In addition to the 14 weighing modes, these balances also include a parts counting function with a reference size of one to one hundred, which makes it perfect for inventorying small items.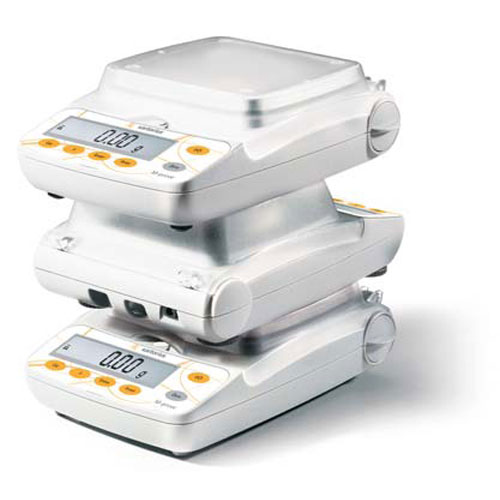 In addition to the quality that comes with the name Sartorius, the M-Prove series offers new levels of convenience through their design. These balances weigh less than 3 pounds and are able to be stacked to save space thanks to their protective flip-down cover. All M-Prove series balances with a capacity of 710 grams or less come complete with an internally stored calibration weight(s). If you have to work in the field you will not have to worry about finding an outlet as most of these balances can run off of a 9v battery (AY-123 and AY-303 are AC powered only). With built-in overload protection and an optional hard-shell carrying case (part number YDB06) you can travel almost anywhere with your scale.

While the M-Prove series of balances were made with ease of use in mind, long time analytical balance users will continue to flock towards these units not only for their ease of use but also for their affordability and the reliability that comes from a Sartorius made balance

In addition to our 30-day guarantee all M-Prove series balances are covered by a one year manufacturer's warranty.

Sartorius AY series is a direct replacement of the Acculab Vicon scales. Sartorius the mother companey of Acculab. Merged Acculab with Sartorius and created the M-PROVE AY Scales from the Acculab Vicon VIC Scales
are ideal balances and scales for Educational, Industrial, Laboratories, Research, Postal, Special Applications and more.
Whether weighing multiple samples with totaled results, formulating a color, counting, percent weighing, specific gravity or under pan weighing, Sartorius has the answer in AY Scales.
All AY models feature a flip-down protective cover for safe transportation and stackability, integrated cal-weights, stainless-steel pan and large back-lit display.
Sartorius most popular portable scales. Use a 9 volt battery take the scale on the go (excluding milligram models). With many applications like Mass unit conversion, Counting, Percent weighing, Display Hold, Totaling, Specific Gravity this scalw will fit you needs. Connect the scale to your computer via a RS-323 seriel port ors a USB


Other Recommend Scales
EJ-123
EJ-120
EJ-200
120 x 0.001 g



$397.50



120 x 0.01 g



$210.00



210 x 0.01 g



$255.00



EJ-300
EJ-410
EJ-610
310 x 0.01 g



$300.00



410 x 0.01 g



$326.25



610 x 0.01 g



$431.25



EJ-1500
EJ-2000
EJ-3000
1500 x 0.1 g



$206.25



2100 x 0.1 g



$247.50



3100 x 0.1 g



$300.00



EJ-4100
EJ-6100
4100 x 0.1 g



$345.00



6100 x 0.1 g



$386.25



SPX123
SPX223
SPX222
120 x 0.001 g



$459.20



220 x 0.001 g



$513.80



220 x 0.01 g



$336.70



SPX422
SPX622
SPX1202
420 x 0.01 g



$471.80



620 x 0.01 g



$551.60



1200 x 0.01 g



$629.30



SPX2202
SPX421
SPX621
2200 x 0.01 g



$708.40



420 x 0.1 g



$186.20



620 x 0.1 g



$275.10



SPX2201
SPX6201
SPX8200
2200 x 0.1 g



$346.50



6200 x 0.1 g



$571.20



8200 x 1 g



$287.70