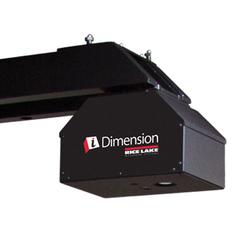 more info
Rice Lake 165602 iDimension 300 NTEP 3D Imaging System Head Unit
Dimension 300 is designed to be securely installed to a concrete floor and positioned over a workstation or roller/conveyor system in warehouse and manufacturing environments.
iDimension's multiple patented, innovative sensing technology and 3D imaging work together to optimize time and throughput.
Parcels are dimensioned more accurately and faster than manual measurements. In an industry leading 0.2 seconds, dimensions are calculated within 0.2 inches of accuracy.
iDimension is an American-made product supported by a worldwide network of service providers and is currently pending Legal for Trade approval
The standard operator interface provides functionality from any PC or tablet connected to the network. iDimension provides L x W x H and an image of the scanned item. Integrating an existing scale with iDimension attaches weight to the displayed data
FEATURES
Calculates dimensions in 0.2 seconds
Instantly captures dimensions, weight, bar codes, OCR text and image of static items
Dimensions packages (NTEP), fl ats and irregular objects
Converts irregular objects like cylinders, spheres, tubes, polybags and irregular objects to accurate cubed dimensions
No moving parts
Requires virtually no alignment or special handling while placing the object under the work area
Automatic or Manual operating modes
Manual Mode: Initiate dimension of item via bar code scan or software function key
Automatic Mode: Initiate dimension via detection of object in work area
Interfaces with most shipping scales and Rice Lake's 420 indicator
Quick assembly: Includes necessary tools, iDimension 200 only
Easy to set up and calibrate: Includes calibration object and embedded web service interface via a fi xed IP or DHCP
Bar codes supported: EAN13, UPC A and 2/5 digit extensions, Code 128 and UCC/EAN-128 encoding, Code 39, Code 93, EAN 8, UPC – E, UPC 2/5, digit extensions, Interleaved 2 of 5, Codabar, Patch Codes, PDF 417, Datamatrix, QRCode
Series
iDimension 200
iDimension 300
Physical Dimension
Length: 25.5"
Width: 14"
Height: 67"
Weight: 28lbs
-
Power Requirements
Single power source 110-240V external power supply
Single power source 110-240V power cord and cable with 3 conductor PC, power connector socket
Operating Temperature
41°F to 104°F
(5°C to 40°C)
41°F to 104°F
(5°C to 40°C)
Humidity
Non-condensing
Non-condensing
Mechanical Environment Class
M1
M1
I/O ports
(3)USB type A ports
(1)10/100/100BASE-T Ethernet port
(3)USB type A ports
(1)10/100/100BASE-T Ethernet port
Electromagnetic Class
E1
E1
Bar Codes Supported

EAN13
UPCA & 2/5 digit extensions
Code 128 and UCC/EAN-128 encoding
Code 39
Code 93
EAN 8
UPC-3
UPC 2/5 digit extensions
Interleaved 2 of 5
Codabar
Patch Codes
PDF 417
Datamatrix
QR Code


EAN13
UPCA & 2/5 digit extensions
Code 128 and UCC/EAN-128 encoding
Code 39
Code 93
EAN 8
UPC-3
UPC 2/5 digit extensions
Interleaved 2 of 5
Codabar
Patch Codes
PDF 417
Datamatrix
QR Code


Package Contents
iDimension 200 assembly tools and calibration object
15602 - iDimension 300 head assembly with mounting bolts & calibration object
166111 - Stand
Adjustable floor mounted stand and hardware
Warranty
One-year limited warranty
One-year limited warranty
Approval
NTEP CC 15-023P
NTEP CC 15-023P
NTEP Measurement Ranges - Cube
 
iDimension 200
iDimension 300
LENGTH MIN (IN)
5.6
7
LENGTH MAX (IN)
48
48
LENGTH DIVISION (IN)
0.2
0.2
WIDTH MIN (IN)
5.6
7
WIDTH MAX (IN)
28
32
WIDTH DIVISION (IN)
0.2
0.2
HEIGHT MIN (IN)
2.4
2.4
HEIGHT MAX (IN)
28
28
HEIGHT DIVISION (IN)
0.2
0.2
|   | iDimension 200 | iDimension 300 |
| --- | --- | --- |
| LENGTH MIN (IN) | 6 | 7 |
| LENGTH MAX (IN) | 48 | 58 |
| LENGTH DIVISION (IN) | 0.5 | 0.5 |
| WIDTH MIN (IN) | 6 | 7 |
| WIDTH MAX (IN) | 28 | 32 |
| WIDTH DIVISION (IN) | 0.5 | 0.5 |
| HEIGHT MIN (IN) | 6 | 6 |
| HEIGHT MAX (IN) | 28 | 32 |
| HEIGHT DIVISION (IN) | 0.5 | 0.5 |