Have Questions?


Our Staff will be glad to help

Legal For Trade
Selected Models
Canada Measurement
Selected Models

Please Call (800)832-0055
or Email Us for help
Ordering this Scale

The Economical Choice for Jewelry Weighing!

The OHAUS PAJ Gold and Carat Series of precision jewelry balances are designed for basic routine weighing in general and legal-for-trade jewelry applications, and offer uncomplicated performance for all your basic weighing needs.

Standard Features Include:

The large weighing pan—Large amounts of precious metals and gemstones can be accommodated in a single batch.
Bright backlit LCD display—With a bright backlit LCD display, and auxiliary display available as an accessory, PAJ Gold and Carat Series displays can be read, even in dimly lit areas.
Internal calibration—Internal calibration is available in select models to ensure the accuracy of weighing.

PAJ Gold and Carat Series Jewelry Balances

Multiple Modes and Weighing Units Each PAJ Gold and Carat Series Balance can be set-up to weigh in one or more weighing units, including g, ct, lb, oz, ozt, GN, dwt. The PAJ Series also includes weighing modes for parts counting and percent weighing, and a weigh-below balance hook.

Up-front Level Indicator Ensures Accuracy

The PAJ has been designed with an up-front level indicator, eliminating the need to look behind the balance during the leveling process. A quick glance at the up-front level indicator helps you ensure that the balance is level prior to each use.

Selectable Environmental Settings For Working in

Practically Any Condition

To help adapt the balance to real life working conditions, the PAJ is designed with selectable environmental settings. When working in harsh environments, the balance can be adjusted to compensate for vibrations and other disturbances. Conversely, the balance can be adjusted for working in slow filling applications where sensitivity is a must.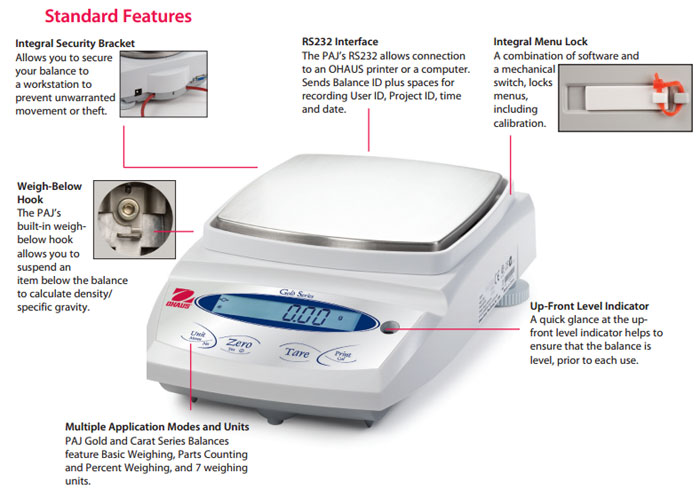 Model with Internal Calibration
PAJ1003CN
PAJ2003CN



$2,187.57






$1,256.34



Capacity x Readability
1050 x 0.001 ct
2050 x 0.01 ct
Repeatability
0.001 ct
0.01 ct
Linearity
0.002 ct
0.01 ct
Legal For Trade
NTEP CC 09-043
Measurement Canada NoA AM-5717
Class I
Class II
Legal Capacity x Readability
1050 x 0.01 ct
2050 x 0.1 ct
Tare Range
To capacity by subtraction
Stabilization
4 Seconds
3 Seconds
Calibration
CN models: Internal InCal Calibration or external calibration/all other models external calibration only
Linearity Calibration masses
100 g, 200 g
200 g, 400 g
Pan Size
Ø3.5in / Ø9cm
Ø4.7in/Ø12cm
Application Modes
Weighing, parts counting (with APW optimization), percentage weighing
Weighing Units
g, mg, ct, oz, ozt, gn, dwt
Interface
RS232, bi-directional
Power
AC adapter (included)
Operating Conditions
50° F / 10° C to 86° F / 30° C at 10% to 80% relative humidity, non-condensing
Storage Temperature
-40° F / -40° C to 131° F / 55° C at 10% to 80% relative humidity, non-condensing
Balance Dimensions
(W × H × D)
7.7 x 12.6 x 9.2 in
196 x 320 x 232 mm
Carton Dimensions
(L × W × H)
19.1 x 15.0 x 20.4 in
485 x 380 x 517 mm
Net Weight
10.1 lb/4.6 Kg
Shipping Weight
16.5 lb/7.5 Kg
Compliance
Metrology: NIST Handbook 44 (NTEP CC 09-043);
Canada Weights and Measures Regulations (Measurement Canada NoA AM-5717)
Product Safety: CAN/CSA-C22.2 No. 61010-1; UL Std. No. 61010-1
Electromagnetic Compatibility: FCC Part 15 Class A; Industry Canada ICES-003 Class A