SJX323N/E
(draftshield included)

SJX SJX622N/E

SJX1502N/E ,SJX1502N/E

A Dynamic Weighing Experience with the Next Generation of OHAUS Carat and Gold Portable Balances
Designed for a wide range of Legal-for-Trade applications, the Class ll and Class III certified SJX Carat and Gold balances are ideal for weighing jewelry, precious metals and gemstones. Equipped with superior overload protection, large backlit display, fast stabilization time, multiple weighing units, application modes and connectivity options, these slim balances offer a truly user-friendly weighing experience.

| | |
| --- | --- |
| | |
| Legal For Trade | Canada Measurement |

Standard Features Include:
Geared for the Job with Legal-for-Trade Approvals & Superior Overload Protection Scout meets Class ll and III accuracy requirements for countertop retail applications. Integrated superior overload protection system protects the balance from damage ensuring durability in everyday applications.
Large Backlit LCD Clearly Shows Weighing Results in Retail Applications The Scout SJX is equipped with a bright white backlit display which shows the net weight of precious metals and stones clearly. An optional auxiliary display can also be installed.
Fast Weighing Speed and High Resolution Deliver Repeatable and Reliable Results Stabilization time as fast as 1 second means quick results and increased efficiency. Equipped with superior weighing technology, the Scout also ensures repeatable and reliable weighing results.
Multiple Connectivity Options Available for Data Logging and Communication With expanded connectivity options including RS232, USB Host, USB Device, Ethernet and Bluetooth®, the Scout provides added versatility to data logging and communication.

Legal-for-Trade Approvals
NTEP and Measurement Canada approved models meet or exceed Class II or III accuracy requirements, making the Scout ideal for commercial applications where reliability and precision are essential.

Superior Protective Features
The superior mechanical overload protection system of the Scout is comprised of a high-strength stainless steel pan and an impact-resistant plastic pan support. This enables the balance to safely withstand loads up to 10 times its rated capacity.

Clear Viewing of Results
The large backlit LCD provides operators a clear view of their weighing results. An optional auxiliary display can also be installed easily to provide additional weight notifications to customers in retail environments.

Improved Performance
Stabilization time as fast as 1 second and high resolution load cell with up to 150,000d resolution and readability to 0.001g, deliver extremely quick, precise and repeatable weighing results.
Expanded Connectivity Options
Scout has multiple connectivity options for convenient data logging and communication, as well as connecting to an auxiliary display. Options include - RS232, USB Host, USB Device, Ethernet and Bluetooth®. With the USB Host option, you can simply save and transfer data from the balance to a USB drive. The Bluetooth option allows you to wirelessly operate the balance via a mobile device or tablet for Android™.
Draftshield Model Available
Scout's ingenious draftshield (1mg model only) was designed with an easy to remove top cover piece. This serves as a wind protection ring which keeps the weighing surface stable in drafty environments, while maintaining weighing speed.
Built-in Application Modes
Weighing—Determines the weight of items on the pan in the selected unit of measure.
Parts Counting—Counts the number of pieces on the pan using a uniform weight.
Percent Weighing—Measures the weight of a sample displayed as a percentage of a pre-established reference weight.
Check Weighing—Compares the weight of a sample against target limits.
Totalization—Measures cumulative weight of multiple items. Cumulative total may exceed balance capacity.
Density Determination—Determines density of solids or liquid. With the integrated weigh below hook, it is possible to perform specific gravity tests for objects that cannot be easily placed on the weighing pan.
Display Hold—Manually holds the last stable weight or the first highest stable weighing value on the display.
The Bluetooth® word mark and logos are registered trademarks owned by Bluetooth SIG, Inc. and any use of such marks by OHAUS is under license. Android is a trademark of Google Inc.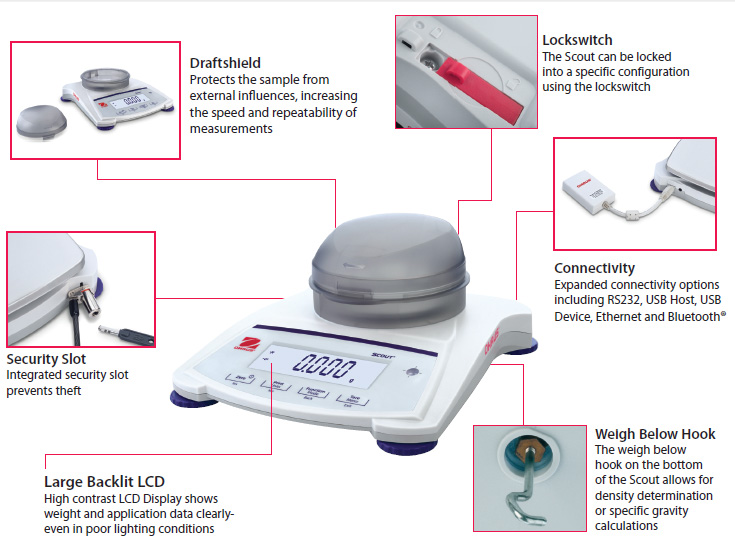 Model
SJX323N/E
SJX622N/E
SJX1502N/E
SJX6201N/E

Price




$479.00






$279.95






$269.95






$479.00



Capacity x Readability
64 x 0.001 g
320 x 0.01 ct
2.2575 x 0.0005 oz
2.0575 x 0.0005 ozt
41.153 x 0.001 dwt
987.6 x 0.02 grn
620 x 0.01 g
3100 x 0.05 ct
21.87 x 0.005 oz
19.935 x 0.005 ozt
398.6 x 0.1 dwt
9568 x 2 grn
1.367 x 0.0005 lb
1500 x 0.01 g
7500 x 0.5 ct
52.910 x 0.005 oz
48.225 x 0.005 ozt
964.52 x 0.01 dwt
23148 x 2 grn
3.307 x 0.0005 lb
1.5 x 0.00001 kg
6200 x 0.1 g
31000 x 5 ct
218.7 x 0.05 oz
199.35 x 0.05 ozt
3986 x 1 dwt
95680 x 20 grn
13.670 x 0.005 lb
6.2 x 0.001 kg
Legal For Trade
NTEP CC #16-015A1 - Measurement Canada AM-6008)
Class II
Class III
Class II
Class III
Legal For Trade
Capacity x Readability
64 x 0.01 g
320 x 0.1 ct
620 x 0.1 g
1500 x 0.1 g
6200 x 1 g
Span Calibration Mass
50g (included)
300g
1.5kg
5kg
Linearity Calibration Mass
30,60g
300,600g
1 kg,1.5kg
3 kg,6kg
Stabilization Time (s)
1.5
1
1.5
1
Construction
ABS housing & stainless steel pan
Draftshield
Yes
No
Calibration
User-selectable external span or linearity calibration
Weighing Units**
g, kg, ct, oz, ozt, dwt, lb, grn
Application Modes**
Weighing, Parts Counting, Percent Weighing, Check Weighing, Totalization, Density Determination, Display Hold
Typical Battery Life
80 hours
Power Requirement
AC adapter(included) or 4 AA batteries(not included)
Specified Temperature Range
Class II: 10°C (50°F) to 30°C (86°F) at 10% to 80% relative humidity, non-condensing
Class III: 10°C (50°F) to 40°C (104°F) at 10% to 80% relative humidity, non-condensing
Storage Conditions
-20°C (-4°F) to 55°C (131°F) at 10% to 90% relative humidity, non-condensing
Optional Communication
RS232, USB Host, USB Device, Ethernet or Bluetooth (available as accessories)
Display Type
Backlit LCD: 6-digit 7-segment with white LED backlight
Display Size
0.78 in / 20 mm digits
Pan Size (W × D)
Ø3.7 in / Ø93 mm
Ø4.7 in / Ø120 mm
6.7 × 5.5 in / 170 × 140 mm
Balance Dimensions (W × D × H)
8 × 8.7 × 4.1 in
202 × 222 × 103 mm
8 × 8.8 × 2.1 in
202 × 224 × 54 mm
Shipping Dimensions (W × D × H)
11.8 × 9.8 × 5.1 in
300 × 250 × 129mm
11.8 × 9.8 × 3.4 in
300 × 250 × 86 mm
Net Weight
2.2 lb / 1 kg
Shipping Weight
3.3 lb / 1.5 kg
** Available Weighing Units and Application Modes vary by local regulations.

Other Standard Features and Equipment
Transportation lock, stainless steel pan, menu & calibration lockout switch, slip-resistant and adjustable feet, leveling bubble, mechanical and software overload/underload protection, stability indicator, auto tare, low battery indicator, auto shut-off, user-selectable printing options, user-selectable communication settings

Compliance
Metrology: NIST Handbook 44 (NTEP CC 16-015); Measurement Canada Weights and Measures Regulations (NoA AM-6008)
Product Safety: IEC/EN 61010-1; CAN/CSA C22.2 No. 61010-1; UL Std. No. 61010-1
Electromagnetic Compatibility: IEC/EN 61326-1 Class B, Basic environments; FCC Part 15 Class B; Industry Canada ICES-003 Class B
Optional Accessories RS232 Interface Kit.30268982
USB Host Interface Kit.30268983
USB Device Interface Kit.30268984
Ethernet Interface Kit.30268986
Stacking & Storage Cover (6 pcs) 30268987
Stacking & Storage Cover (1 pc) 30268988
Printer, Impact, SF40A, AM. 30064203
Auxiliary Display Kit. 30269019
Security Device. 80850043
Top Loading Kit for Density Determination.30269020
Carrying Case 30269021
In-use Cover. 30269022