The Imada DPS-Series has been replaced bu the Imada DS2-Series
Best value digital force gauge with capacity up to 220 pounds (push/pull)
RS-232, Digimatic and analog outputs
Ergonomic, heavy-duty metal construction
Pounds, kilograms or newtons are push-button selectable
Overload alarm and low battery display indicator
Outstanding display update of 20 times/second
Runs on internal NiCad batteries or AC adaptor
Real time and peak mode (selectable)
Tare function
Full set of accessories, AC charger/adapter and carrying case
Overload capacity 200% F.S.
Control the gauge from your computer with Imada Data Acquisition Software - captures and analyzes data with an RS-232 port directly from any Windows program. Log and chart measurements as well as statistical information
The DPS digital force gauges represent the latest technology in an affordable, feature packed instrument. The rugged metal housing is ergonomically designed to fit your hand, yet durable enough to withstand harsh industrial environments.
The easy to read display tells you at a glance the unit of measurement (lb, kg or Newtons), tension or compression, if you are in Peak Mode, and whether the built-in NiCad batteries are low.
The standard outputs (RS-232C, Digimatic, and ±1VDC analog) allow you to capture data for permanent record.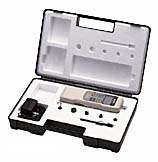 Choose the range or ranges that best suit your needs. All DPS gauges are sold complete in kit form with gauge, hard plastic carrying case, full set of measuring adapters, extension rod, and AC adapter/charger. All DPS gauges can be run on the internal NiCad batteries or the AC adapter/charger.
Optional Data Buttons and Data Software
Imada DB-Series data input buttons work with Imada SW software to automate data collection from Imada force or torque gauges. Enter peak measurements into the spreadsheet and "zero" the gauge with a touch of the button. Minimize computer time and mouse usage
Click here for more info...
Accuracy: ±0.2% ±LSD
Selectable units: pounds, kilograms or newtons
Overload Capacity: 200% of F.S. Display flashes beyond 105% of F.S.
Display Update: 20 times/second
Sampling Rate: 1000 times/second
Power: Rechargeable NiCad battery pack or AC adaptor
Low Battery Indicator: Display flashes BAT when battery is low
CPU: 8-bit C-MOS
A/D Converter: 13-bit delta sigma system
Outputs: RS-232, Mitutoyo Digimatic and ±VDC analog output
Operating Temperature: 32° to 100°F (0° to 40°C)
Model

Pounds
(ounces)

Kilograms
(grams)

Newtons

Price

Capacity x Resolution

DPS-4

4.409 x 0.001 lb

2 x 0.001 kg

19.61 x 0.01 N

$595