Detecto veterinary scales make weighing four-legged patients easy. The large VET400 is a low profile floor scale so animals aren't hesitant to step onto it. With a capacity of 400 lbs, it can weigh even the largest of pets. The smaller VET50 weighs animals up to 50 lbs and can be used on the floor or tabletop. An optional non-skid rubber mat keeps animals from slipping. The VET330 weighs up to 300 pounds and is truly portable with the carry handle..
All models feature the 750 digital weighing indicator with 8 foot cable for remote mounting on wall or tabletop, and removable stainless steel platform for easy clean up.
VET330-WH
Detecto Scale Company has expanded their Stainless Steel line of veterinary scales to include the new Detecto VET330 veterinary scale. This new model has a capacity of 330 lbs x 0.2 lbs and includes wheels and handles to make it truly portable
Platform Size: 22 x 36 inches
Capacity: 330 lb x 0.2 lb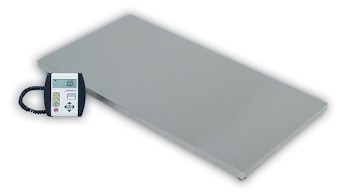 Detecto VET400 veterinary scale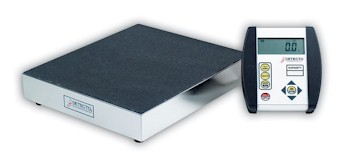 Detecto VET50 veterinary scale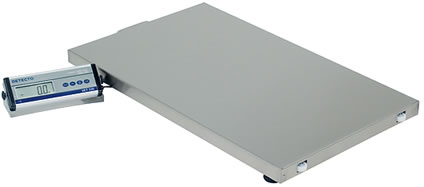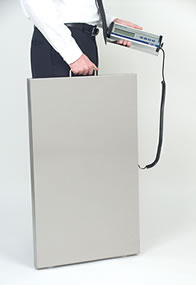 Detecto VET330 veterinary scale above
Power x 3 with the new 750 Weight Display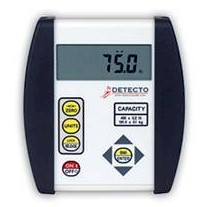 The new Detecto 750 weighing indicator is the perfect weight display for all applications. The recharging circuitry is "Built-In" to the 750 display. Utilizing the AC-adapter and installing Ni-Cad "AA" batteries, you can have a truly free standing scale in any office environment.
Operate up to 250 hours on new alkaline batteries.
Operate up to 100 hours on NiCad batteries before recharging. (Recharging time is approximately 8 hours and the scale can be operated during this time.)