CAS HFS Series Floor Scales



Authorized Dealer

The CL-5500 Label Printing Scale has the functions you need at an affordable price. Includes CL-Works-Pro software package. Use in supermarkets, specialty stores, deli's and more!
CAS Scales >> Floor Scales >> Legal for Trade Scales



Legal For Trade

Have Questions?


Our Staff will be glad to help

CAS HFS Series Floor Scales

The HFS Series Floor Scale is available in 3 sizes and 2 capacities. Choose either the 3 x 3, 4 x 4 or 5 x 5 at 5,000 or 10,000 lb. capacities. The HFS low profile design makes this floor scale ideal in any environment. Heavy duty construction and easy to use. Bundle with the popular CI-200 and CI-2001 Indicators.

The HFS Series Floor Scale is available in 3 sizes and 2 capacities. Choose either the 3 x 3, 4 x 4 or 5 x 5 at 5,000 or 10,000 lb capacities. Bundle with the popular CI-200 and CI-2001 Indicators.

3 x 3, 4 x 4 and 5 x 5 sizes available
5,000 x 1 lb / 10,000 x 2 lbs
Low Profile & Heavy Duty
Anti-skid Diamond Plated Steel Deck
16 ft Cable
Adjustable Feet
Side access junction box
Double Shielded Load Cell Cable
Bundle with CI-200 or CI-2001 Indicator
Four environmentally sealed NTEP approved load cells
Legal for Trade - COC# 07-022
Model
HFS-405-CI100A
HFS-410-CI100A
HFS-505-CI100A
HFS-510-CI100A
Scale with CI-100A



$1,224.00






$1,314.00






$1,444.00






$1,544.00



Capacity x Readability
5,000 x 1 lb
10,000 x 2 lb
5,000 x 1 lb
10,000 x 2 lb
Platform Size
48 x 48 x 3.5
48 x 48 x 3.5
60 x 60 x 3.5
60 x 60 x 3.5
Legal for Trade
YES
COC# 07-022
NO
YES
COC# 07-022
NO
Cable Length
10 ft - J-Box to Indicator
Operating Environment
-10ºC ~ 40ºC / -14ºF ~ 104ºF
Display
6-digit, 7-segment , 1" (25mm) LCD with 16 annunciators and blue backlight
Display Designators
Stable, Zero, Net, Total, Unit, Percent, Counting, Hold, HI/OK/LO, Battery
Units
Kg, lb, lb:oz, g, oz, pcs (Non-Commercial only), %
Accuracy
<= 0.01% Full Scale
Function Keys
Setup/Hold, Print/Func, Acc/Total, Unit/Data, Tare/Preset, ON/OFF/Zero
Vibration Filter
Four (4) Adjustable Filter Settings - Reduce Vibration/Assist in Configuring Indicator Speed & Stability
Calibration
Linearity calibration, GEO calibration, or Input Calibration
Load Cell Capability
4 @ 350 ohm
Communication
One Full Duplex RS232 Interface, One USB Interface
Excitation Voltage
5V DC
Dimensions
6.4" (L) x 3.5" (W) x 1.2" (H)
162mm(L) x 80mm(W) x 29mm(H)
Power Source
6VDC 500mA Adapter (Included) or 4 x AA batteries
Warranty
2 Years
| Model | Capacity | Price | Dimension | Legal for Trade | Indicators | Access Ramp | Buy Now |
| --- | --- | --- | --- | --- | --- | --- | --- |
CAS CI-100A Indicator
The CI-100A is a simple, yet versatile indicator with NTEP and Measurement Canada certifications suitable for legal for trade use. Functionality includes:Weight ? Count ? Percentage ? Accumulation ? Hold ? Checkweighing ? Animal Weighing Capabilities

With a display resolution up to 1/100,000, visibility is insured by a blue backlit 1" high LCD display.

Standard features include a full duplex RS232 serial interface, USB interface, multiple communication protocols, time & date, and various selectable units of measurement including lb, kg, g, oz, lb:oz, pieces (non-commercial only), and percent.
Model
CI-100A
Construction
Aluminum Alloy Housing with Desk/Wall Mount Bracket
Display
6-digit, 7-segment , 1" (25mm) LCD with 16 annunciators and blue backlight
Display Designators
Stable, Zero, Net, Total, Unit, Percent, Counting, Hold, HI/OK/LO, Battery
Units
Kg, lb, lb:oz, g, oz, pcs (Non-Commercial only), %
Accuracy
<= 0.01% Full Scale
Function Keys
Setup/Hold, Print/Func, Acc/Total, Unit/Data, Tare/Preset, ON/OFF/Zero
Vibration Filter
Four (4) Adjustable Filter Settings - Reduce Vibration/Assist in Configuring Indicator Speed & Stability
Calibration
Linearity calibration, GEO calibration, or Input Calibration
Load Cell Capability
4 @ 350 ohm
Communication
One Full Duplex RS232 Interface, One USB Interface
Excitation Voltage
5V DC
Operating Environment
-10ordm;C ~ 40ordm;C / -14ordm;F ~ 104ordm;F
Dimensions
6.4" (L) x 3.5" (W) x 1.2" (H)
162mm(L) x 80mm(W) x 29mm(H)
Power Source
6VDC 500mA Adapter (Included) or 4 x AA batteries
Product Weight
2.7 lb / 1.3 kg
Warranty
2 Years
Approvals
NTEP: COC# 16-103
Measurement Canada: AM-6044
CE, WEEE Directive, UL/CUL
CAS CI-2001 Series Indicator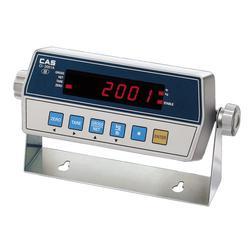 The CI-2001 Seres Indicator with RS-232. Use in a variety of applications - floor scales, livestock scales, platform scales, pallet scales, and much more. With its bright red display, the CI-2001 Series Indicator is easy to read. Legal for trade.
Compact & Simple Indicator
Power : AC Adapter
Single Pass Automatic Span Calibration
RFI/EMI Screened / Watch - Dog Function
Wall/Panel Mounting Type
kg/lb Switchable
Gross/Net/Tare
IP 65/NEMA4X Indicator enclosure(CI-2001AS/BS)
NTEP Approval number :98-103
Model
CI-2001A
CI-2001B
CI-2001AS
CI-2001BS
Input Sensitivity
2 V/D(H- 44, OIML)
0.5 V/D(Non H - 44, OIML)
Zero Adjust Range
0.05~5mV
Load Cell Excitation
DC 5V, Up to 4 350 Load Cells
A/D Conversion Speed
10 times/sec
A/D Display Resolution
5,000dd(H- 44, OIML)
30,000dd(Non H - 44, OIML)
A/D Internal Resolution
Approximately 200,000 Counts
Weight Display
6 Digit LED
(H=0.55 )
6 Digit LCD
(H=1)
6 Digit LED
(H=1)
6 Digit LCD
(H=1)
Operating Temperature
-10 C~+40 C
Dimensions(inch)
7.32(W) 2.28(D) 3.34(H)
7.87(W) 5.11(D) 2.08(H)
Product Weight(lb/kg)
Approximately 1.10/0.5
Approximately 3.30/1.5