TorRey LSQ-40L - Price Computing Legal for Trade Scale



Authorized Dealer

The LSQ Series Label Printing Scale (LSQ-40L) offers a complete package for your business with sturdy construction, easy programming and substantial functionality to meet the label printing and weighing needs of your butcher shop, market, deli, grocery store or other business.
TorRey >> Retail Scales
| | |
| --- | --- |
| | |
| Legal For Trade | Canada Measurement |

LSQ-40L Label Printing Scale

The LSQ Series Label Printing Scale (LSQ-40L) offers a complete package for your business with sturdy construction, easy programming and substantial functionality to meet the label printing and weighing needs of your butcher shop, market, deli, grocery store or other business.

The LSQ Series features stainless steel construction, customized printing formats and a programmable scrolling promotional display. Built to last, our scale features an AC adapter and user-friendly keyboard for easy training of in-store personnel. The LSQ has a capacity of 40 lbs and is precise to .01 lbs ? this gives the scale exceptional precision to help maximize your profits. Featuring 300 PLU memories, the LSQ offers 72 direct access memory keys and the ability to designate up to 20 programmed sellers. The easy to change print cartridge expedites customer service and reduces down time, while programming security is assured with management key control. Included software allows the scale to be easily programmed from a computer and all information downloaded via a local network to one or all LSQ-40L scales in your store.



The LSQ also features ethernet capabilities, allowing for an unlimited number of LSQ scales functioning on a local network. Sales can be controlled for each scale or by a group of scales, and numerous sales reports and lists can be easily printed from the scale. With a footprint of 17.6" x 19.5", this rugged label printing scale also includes a large, easy to see turret mounted display.

Whether you?re pricing ground sirloin in your meat department or packaging sliced ham in your deli, the LSQ-40L is an ideal tool for your business. So if you need a reliable and rugged label printing scale at a very affordable price, choose the LSQ-40L from TOR REY.

LSQ-40L Label Printing Scale
SPECIFICATIONS:
Model LSQ-40L
40 lb Capacity x .01 lb Precision
300 PLU Memories
72 Direct Access Keys
AC Adapter
Stainless Steel Cabinet & Platter
Turret Mounted Display
Programmable Ingredients
Scrolling Promotional Messages
Programmable Bar Codes
IDEAL FOR:
Butcher Shops
Delis & Restaurants
Bakeries & Dairies
Carnecerias
Industrial Kitchens
Meat Packaging Facilities
Grocery Stores
Supermarkets
Convenience Stores
SCALENET SOFTWARE INCLUDED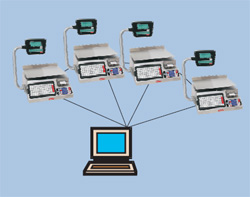 SCALENET software included for its configuration from a computer.
An unlimited number of LSQ scales can be installed into a local red.
Sales can be controlled for each scale or group of scales.


Key programming/Software programming The LSQ 40L can also be programmed through the acces key (direct to the scale) or SCALENET software (from PC). SCALENET and key programmation manuals are included on the cd.

The following programmable features are available
300 - 10,000 PLUs memories.
Printing formats and personalizad formats
Labels Headlines
Option to enter ingredients
Scrolling promotion messages
Configure cash register functions, returns, discounts and non weighed products.
Programming Bar code.
72 direct access memory keys through the keypad included
Up to 20 programmed sellers
Printable lists and sales reports
Etc
*Custom programming has to be done to meet customer needs and can be done by the customer or by the dealer. Custom programming is not included in the product price
DIRECT AND EASY PROGRAMMING
PROGRAMMABLE FEATURES AVAILABLE

300 to 10000 PLU's
Customized printing format
Ingredients
Advertising Message
Returns, discounts and cash register functions for non weighed products
Bar code UPC or EAN Programming
72 direct access keys
20 sellers
Different printing reports
Et
MULTIPLE TYPES OF SALES REPORTS
You can get list and sales reports, which will help you on the administration of your business, such as:
Reports
Sales by seller
Sales by PLUs
Sales by PLUs group
Sales by sellers group
Sales by department
Sales by group
Lists
General PLUs
Tares List
Sellers list
By group
By Department.
OPTION TO PRINT DIFFERENT PAPER FORMATS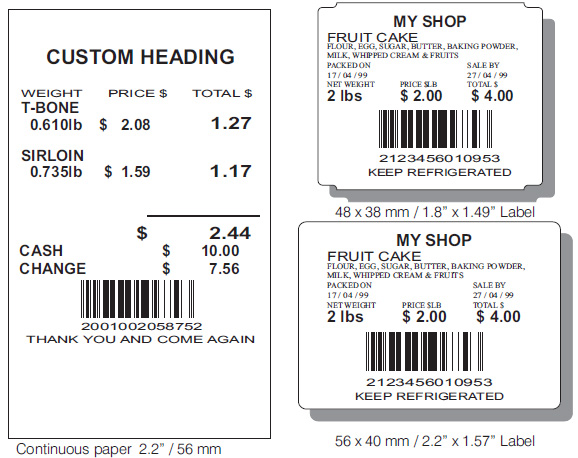 Two standard formats, option to personalized choosing continuous paper or label, setting the desire information on it, including bar code.
Specifications
Model
LSQ-40L
LSQ-40LKT1
LSQ-40LKT2
LSQ-40LKT3
LSQ-40LKT4
Capacity x Readability
40 x 0.01 lb
20 x 0.005 kg
Computer Interface
RS-232, LAN
Weighed minimal unit
100 g /.02lb
PLU
300 (Up to 10,000 memories optional)
Legal For trade
NTEP CC No. 00-135A1
Legal For Trade
Canada Measurement
Backlight
Included
Power Input
110 v/60 Hz (220 v/ 50 Hz Optional)
Adaptor
Included
Plate
15 X 12 ? (38 x 30 cm)
Maximum tare
10 kg/20lb
Price lb/max
999.99 (99.999 optional)
Price $/max
9999.99 (999.999 optional)
Range of operation temp
- 10 a 40° C (14 a 104 °F)
Renge of Storage temp
- 20 a 50°C (-4 a 122°F)
Spec sheet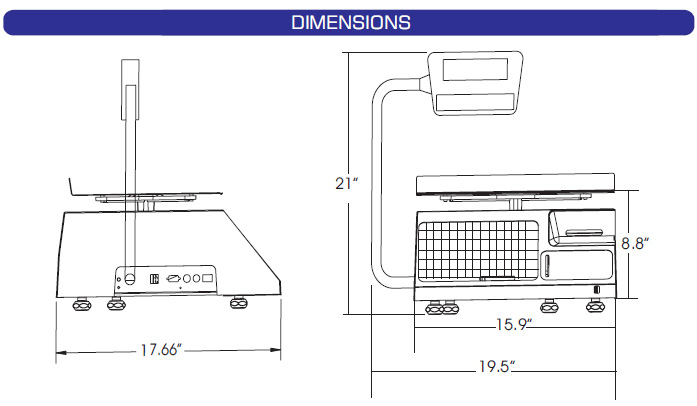 1

×