W-LABEL40L Open Box


N/A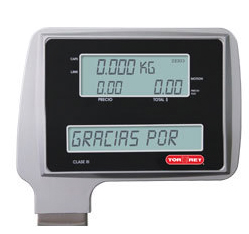 The W- Label scale allows you to effortlessly upload all of your products, the built-in wireless capability provides the opportunity to connect up to 100 W-Label scales and update pricing from a single point.
The W-Label will provide you the opportunity to track your sales, best sellers and your salesman performance with its included management system. You can link the W-Label to your pc or tablet to upload new products, update pricing, customize the labels or generate/print the sales reports
Personalize: Customizable labels, include product description, date, business name, sales slogan and bar code
High Speed thermal printer: The W- Label includes a ultimate generation printer that allows you minimize waste and print faster than before. Customize your labels, print and sell!
Compatible with POS Systems: The W-Label scale can connect to almost any POS system. Please download the required software and integrate your current system.
Specifications
Model
W-LABEL40L
W-LABEL40L
with TR-8051
W-LABEL40L
with 12 Rolls
Price



$875.00






$930.00






$950.00



Capacity Dual
40 x 0.01 lb
Included Lables
-
Save $30
12 Rolls TR-8051 Continuous Strip
Save $30
12 Rolls TR-8010B 58 x 40mm (700) Lables
Legal for Trade
NTEP #16-107
Minimum weight
0.2 lb
Memories
500 PLU`s
Backlight
Included
Maximum Tare
40 lb
Pan Size
15.125" x 11.750"
Input voltage
100/240VAC 50/60Hz
Maximum price
999.99 (99.999 optional)
Maximum total
9999.99 (999.999 optional)
Operation temperature
14 a 104oF (-10 a 40oC)
Interface
Ethernet, WiFi
Storage Temperature
-4 a 122oF (-20 a 50oC)
Net weight
27.7 lb
Packaged weight
36.8 lb