Accessories
Electrochemical analysis is one of the most frequent and demanding tasks in daily lab routines. Sartorius understands that measurements will differ based on compositions, temperatures, conductivities and viscosities of samples and it is these different conditions that set our electrodes apart from the rest. Whether for ultrapure water, jam, wine, TRIS Buffers, or drinking water, Sartorius has the right superior and dependable electrode for your sample types and application workflows.
Superior Construction, Materials & Design
Features
Unique platinum junction and refill port slider and evaporate gate for easier refilling and less evaporation of the electrolyte with air flush cap system prevents clogs from forming.
Integrated and non-integrated temperature sensor ATC or with ATC with universal BNC connectors.
TRIS Compatible and Impervious models available for Biological applications.
Benefits
The widest selection of choice. Now with the GoldLINE and PlatinumLINE electrodes, Sartorius will meet any and all of your unique sample types and application requirements.
The highest quality materials result in better precision and accuracy. The low resistance type A glass membranes are a perfect example of where quality materials interact with samples with less interference.
4 band Conductivity Cell 8PIN Female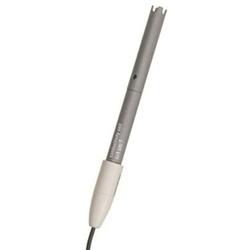 Conductivity cells are used for the conductivity measurement of fluids, such as pure and ultra pure water. Epoxy Bodies and graphite electrodes feature the highest grade of robustness and long-term stability and offer the widest measuring range. The conductivity measuring cells are suited for temperature measurement and are equipped with automatic temperature compensation.
Cells offer a high degree of precision, diversity in wider measuring ranges. Cell geometry design address and minimize polarization effects with difficult sample types.
Optimized cell geometry with 2, 4 band and target configurations
Diverse and wider measuring ranges
Long term cell constant stability
Robust and Durable due to high quality epoxy and graphite construction allowing for break and abrasion resistant body materials
Integrated temperature compensation
Smart design mitigates measuring error from cable interferences, polarizations effects, air bubble and vessel influences.
Model
PY-C02-2S
PY-C13-2S
PY-C22-2S
Price



$459.00





N/A
Reference Junctions
10 to 5,000 µS/cm
10 to 5,000 µS/cm
Size
1.0 cm
1.0 cm
Connectors
8 pin Female
Tip Type
Cylindrical 4 Pt Bands
Oval flow thru - target config.
Primary Product Type
Electrodes, Sensors & Cells
Cable Length
1 m
1.5 m
Diameter
15 mm
15.3 mm
Components
Cell, Manual
Electrolyte filling solution
N/A
Electrode material
Epoxy
Technical attribute
User management
No
Yes
Temperature compensation
Integrated ATC NTC 30 KOhm
Parameters
Conductivity
Overall length
Head Length: 50 mm|Shaft Length=== 120 mm
Head Length: 42 mm; Shaft Length=== 120 mm
EconoLINE Electrodes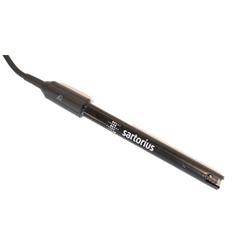 EconoLINE Electrodes Easy to use, low matienance but with reilable and dependable materials, low resistance A type glass membrane and Ag/AgCl reference system for dependable results

Need a dependable and reliable electrode that will performance with excellent price to performance ratio.EconoLINE gives you flexibility to recieve low matienance, easy to use electrode that is economic when it come time to replace.
Easy to use no refilling required with gel filled electrolyte
Easy to Clean with exterior wipedown epoxy body style
Protection tab to reduces breakage of glass membrane when sampling or from magnetic stir bars
Model
PY-P25-2S
Price


N/A
Connectors
BNC
Tip Type
Cylindrical with tabs
Primary Product Type
Electrodes, Sensors & Cells
Cable Length
1 m
Diameter
12 mm
Reference Junctions
Single Patented Sealed
Electrode, Sensor, or Cell Type
pH
Buffer Compatibility
-
Reference System
Ag/AgCl
Reference Junction Material
Fiber
Components
Electrode, Manual, 50mL refill bottle
Electrolyte filling solution
-
Electrode material
Polysulfone Plastic
Technical attribute
Temperature compensation
Non Integrated
Parameters
pH
Overall length
Head Length: 40 mm; Shaft Length=== 120 mm
GoldLINE electrodes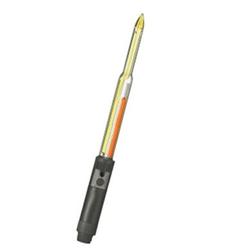 GoldLINE Electrodes Superior stable results due to patented three chamber Iodine/Iodide metal-ion free reference system that lower temperature sensitivities and provides a metal ion free reference system ideal for Pharma abd R&D grade application.
Up your performance and accuracy with GoldLINE
The unique three-chamber reference system is more stable with a metal-free iodide | iodine reference system compared to our excellent Ag/AgCl reference system found in our PlatiumLINE series. GoldLINE not only offers unbeatable stability and faster response times but higher accuracy and precision. Accelerated performance is attributed to the advanced patented reference technologies and superior glass and reference materials & construction. The GoldLINE is a superior sensor that gives precise results allowing for independence from sample contamination with minimal temperature influences.
Patented junction and three-chamber systems set sensors apart from the rest. Reduce and eliminate metal ion contamination and chelation. Minimizes damage to sensors elongating the life of the electrodes, saving time and money as well as increased productivity to mitigate faulty measurements.
GoldLINE electrodes have a lower temperature sensitivity, reducing the drastic influences temperature variants can have on pH measurement, thus producing more precise results.
Exchangeable bridge electrolyte enables one to match the internal electrolyte to their sample for better measurements.
Speed and response time is quicker due to stability of reference exchange, system and damping of temperature influences and the reduction of metal or precipitant contamination that can occur with other electrodes.
Smart ID sensor versions are a reliable and accurate measurement through automatic electrode recognition between sensor and meter. They provide unique identification for each sensor for traceability. ID sensor can be used on multiple instruments without having to recalibrate. It stores the last calibration of the sensor and completes the documentation trail between sensor and meter for the highest GLP practices. Electrode includes model, serial number with date, time and measurement values
Model
PY-P30-2S
Price


N/A
Connectors
BNC/2.5 mm plug
Tip Type
Spear
Primary Product Type
Electrodes, Sensors & Cells
Cable Length
1 m
Diameter
12 mm / 8 mm
Reference Junctions
Triple Sealed with Air Flush
Electrode, Sensor, or Cell Type
pH/ATC
Buffer Compatibility
TRIS Impervious
Reference System
Iodine/Iodine
Reference Junction Material
>
Ceramic
Components
Electrode, Manual, 50mL refill bottle
Electrolyte filling solution
Liquid 3M KCl Potassium Chloride
Electrode material
Glass
Technical attribute
User management
No
Temperature compensation
Integrated ATC 2.5 mm plug NTC 10 KOhm
Parameters
pH/ATC
Overall length
Head Length: 50 mm; Shaft Length=== 120 mm (50/70)