Save Time. Save Accuracy. In many busy laboratory environments, time is wasted waiting for balances to stabilize and adjust to their surroundings. But saving time doesn¡¯t mean you have to sacrifice accuracy. The TA Series is Rice Lake¡¯s first ever analytical balance to feature the mono-metal tuning fork sensor. A tuning fork system eliminates the need for stabilization time while maintaining the accuracy and precision you expect in an analytical balance.

Plug In & Go: Unique tuning fork technology cuts startup time by 90%, eliminating the need for stabilization time while maintaining exceptional accuracy.

Anti-static Shield: A 360¢ª anti-static barrier prevents localized charges from depositing on the balance. Stray charges are prevented from impacting the weighed material, thereby eliminating a cause of error while allowing for a full view of the weighing area.

RS-232 Interface: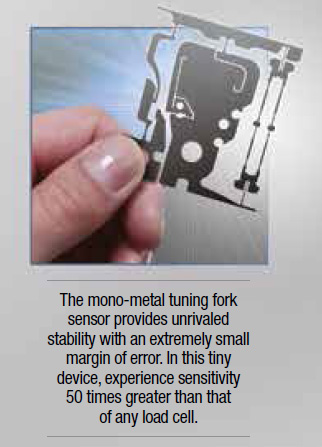 The RS-232 interface is equipped to connect to a PC, printer, or other outside device, allowing users to create and print data records for ISO/GLP/GMP compliance.
Automatic Calibration: Calibration is fully automatic and can be prompted with the touch of a button using the system¡¯s Automatic Repeatability Measurement (ARM) and automatic span adjustment.
Stability: The mono-metal tuning fork sensor provides unrivaled stability with an extremely small margin of error. In this tiny device, experience sensitivity 50 times greater than that of any load cell.
Fully Programmable: The TA Series has remarkable flexibility with a large selection of modes to fit your needs.
Weigh Mode.Toggle between two units of measurement
Piece Mode.Total count is displayed
Percentage Weighing.A sample is referenced to a 100% standard given
Unit Conversion.Converts values of 13 separate units of measurement
Gravimeter.Using optional under-weigh hook
Cumulate Function.Adds samples to supply cumulative weight
Net Addition Function.Automatically performs tare range after addition
Limit Function.References weight to stored limits
Bar Graph.Graph displays range within two points
Standard Features
Anti-electrostatic 360° transparent windshield
Large backlit 16.5 mm Liquid Crystal Display (LCD) displays 8 digits
Single-touch response setting for environment
40-step bar graph display
RS-232 interface
Tuning fork design
Internal calibration
ISO/GLP/GMP compliant printing record
Under-weigh hook included
Model
107396
TA-120
107397
TA-220



$1,622.40






$1,638.00



Capacity
Readability
120 x 0.0001 g
220 x 0.0001 g
Operating Modes
Counting, Percentage, Limit Function (Checkweighing), Specific gravity
Pan Size
Ø 3.15 in (80 mm)
Dimensions
11 x 7.9 x 12 in (290 x 200 x 306 mm)
Weight (Approx.)
6.4 lb (2.9 kg)
Repeatability
1 division
Linearity
1 division
Calibration Weight
100 g or Internal calibration
200 g or Internal calibration
Operating Temperature
50° F to 86° F (10° C to 30° C) 80% RH or lower
RS232 Specifications
Baud rate - 1200/2400/4800/9600/19200 bps, 8/7 data bits, Parity bit-None/Odd/Even
Power
120 VAC adapter
Warranty
Five-year limited warranty
UNITS OF MEASURE
Decimal Ounce
4.2 x 0.000005 oz
7.7 x 0.000005 oz
Decimal Pound
0.26 x 0.000001 lb
0.48 x 0.000001 lb
Troy Ounce
3.8 x 0.000005 ozt
7 x 0.000005 ozt
Pennyweight
77 x 0.0001 dwt
140 x 0.0001 dwt
Carat
600 x 0.0005 ct
1100 x 0.001 ct
Momme
32 x 0.00005 mom
58 x 0.00005 mom
Grain Unit
1,800 x 0.002 GN
3,300 x 0.002 GN
Tael
3.2 x 0.000005
5.8 x 0.00005
Tola
10 x 0.00001 to
18 x 0.00001 to