Industrial Scales

Floor Scales
Manufacturers
Rice Lake Roughdeck QC Stainless Steel Lift Floor Scales
RoughDeck QC is the weighing solution for efficiency and safety when cleaning cycles are tight. The exclusive gas-shock design offers easy lifting, but even more importantly, eliminates dangerous slamming of the deck when closing. For added safety and convenience, a manual support bar swings into action during extended underdeck cleaning.
Rice Lake Scales > Industrial Scales > Floor Scales > Lift Top Scales
The RoughDeck QC is a hostile environment, stainless steel floor scale customized for food, chemical and other demanding washdown applications. The RoughDeck QC?s exclusive gas-shock design provides easy lifting and soft closing of the 3/16 inch top plate. Also included is a manual drop-in-place support bar for use during extended underdeck cleaning.

All of our floor scales, unless specified otherwise, are built with lifting holes to assist our dealers during installation, or to later service the scales. The lifting holes are not the same size on all of our scales and in the PDF on the Resources tab, you will find a chart that lists the standard size and quantity of eyebolts needed for our scales.
Rugged washdown design
Smooth, 304 stainless steel top deck
Rigid 304 stainless steel tube frame
Manual drop-in-place safety bar
4 stainless steel, welded seal IP67, shear-beam load cells
20 ft of SURVIVOr EL147HE hostile environment load cell cable
Remote TuffSeal® JB4SS stainless steel NEMA Type 4X junction box
3/16 in thick smooth top plate
4 adjustable stainless steel SUREFOOT support feet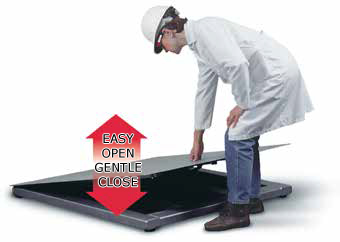 Known as the toughest, most accurate floor scale line in existence, the RoughDeck?s legendary performance is now customized for food, chemical and other frequent washdown applications.
RoughDeck QC is the weighing solution for efficiency and safety when cleaning cycles are tight. Our exclusive gas-shock design offers easy lifting, but even more importantly, eliminates dangerous slamming of the deck when closing. For added safety and convenience, a manual support bar swings into action during extended underdeck cleaning.
Legendary RoughDeck performance, innovative specialty features?the ultimate washdown solution.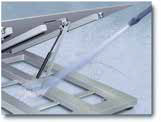 The rugged design incorporates 304 stainless steel construction and four welded seal load cells with PTFE cable designed for high temperatures and washdown areas.





Some Notes about the Pit Frams
Use concrete of minimum yield strength 5,000 PSI or 6-bag mix.
Allow 7 days to cure (wet concrete periodically during this time).
Dimensions shown assume firm, stable soil conditions. When soil conditions are not adequate, place foundation at sufficient depth.
In wet or washdown applications, we recommend the use of hermetically sealed load cells, and that the junction box be mounted remotely in a dry location.
Wire mesh to have minimum 0.75 in cover bottom and sides.
Models
50402
50403
50404
50405
50406
50407
50408
50409
50410
50411
50412



$5,023.60






$5,380.80






$5,901.40






$5,901.40






$6,494.20






$7,064.20






$7,064.20






$9,040.20






$9,040.20






$9,040.20






$10,172.60



Size (W x L)
2.5 ft x 2.5 ft
3 ft x 3 ft
4 ft x 4 ft
4 ft x 4 ft
4 ft x 4 ft
4 ft x 5 ft
4 ft x 5 ft
4 ft x 5 ft
4 ft x 6 ft
4 ft x 6 ft
4 ft x 6 ft
Capacity x Readability
2000 x 0.5 lb
2000 x 0.5 lb
2000 x 0.5 lb
5000 x 1 lb
10000 x 2 lb
2000 x 0.5 lb
5000 x 1 lb
10000 x 2 lb
2000 x 0.5 lb
5000 x 1 lb
10000 x 2 lb
Height
3.5 in
3.5 in
3.5 in
3.5 in
4.5 in
3.5 in
4.5 in
4.5 in
4.5 in
4.5 in
5.5 in
Legal For Trade
NTEP CC 92-001, Class III 5000
End Load Capacity
100% full scale at 2,000 lb and 5,000 lb
80% full scale at 10,000 lb
Remote Junction Box
Stainless steel enclosure can be located up to 10 ft away from scale
Deck
3/16 in thick smooth top plate
Threaded Eyebolt Hole
1/2-20 NF located in center of deck for easy lifting
Welding
Stitch
Cable
20 ft (6.1 m) (for connecting junction box to indicator)
Warranty
RoughDeck QC weldment five years, load cells two years, all other components one year
Approvals
NTEP CC 92-001, Class III 5000 d
Models
50413
50414
50415
50416
50417
50418



$9,576.00






$9,576.00






$11,685.00






$14,094.20






$14,094.20






$14,972.00



Size (W x L)
5 ft x 5 ft
5 ft x 5 ft
5 ft x 5 ft
5 ft x 7 ft
5 ft x 7 ft
5 ft x 7 ft
Capacity x Readability
2000 x 0.5 lb
5000 x 1 lb
10000 x 2 lb
2000 x 0.5 lb
5000 x 1 lb
10000 x 2 lb
Height
4.5 in
4.5 in
4.5 in
5.5 in
5.5 in
5.5 in
Legal For Trade
NTEP CC 92-001, Class III 5000
End Load Capacity
100% full scale at 2,000 lb and 5,000 lb
80% full scale at 10,000 lb
Remote Junction Box
Stainless steel enclosure can be located up to 10 ft away from scale
Deck
3/16 in thick smooth top plate
Threaded Eyebolt Hole
1/2-20 NF located in center of deck for easy lifting
Welding
Stitch
Cable
20 ft (6.1 m) (for connecting junction box to indicator)
Warranty
RoughDeck QC weldment five years, load cells two years, all other components one year
Approvals
NTEP CC 92-001, Class III 5000 d
Scale Dims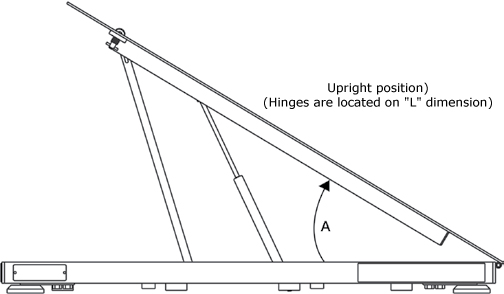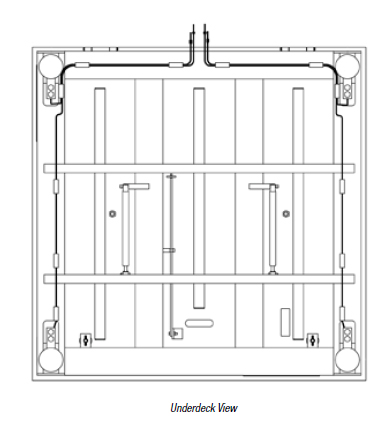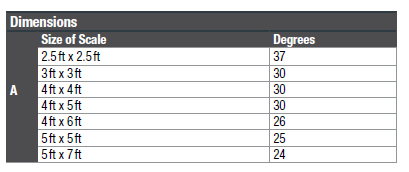 Pit Frame Dims