Industrial Scales

Floor Scales
Manufacturers
Rice Lake Roughdeck QC-X Extreme Stainless Steel Lift Floor Scales
The RoughDeck QC-X base is composed of solid, stainless steel, vertical plates?providing superior protection against bacteria and mold growth. The rugged design incorporates 304 stainless steel construction and four welded-seal load cells with PTFE cable for steam cleaning and washdown areas. The RoughDeck QC-X is designed to create ideal cleaning conditions for strict sanitation requirements.
Rice Lake Scales > Industrial Scales > Floor Scales > Lift Top Scales
Safeguard Against What Lies Beneath What can?t be seen can lead to devastating consequences?both for production facilities and consumers. For ultimate microbial resistance in sanitary environments, Rice Lake?s RoughDeck® QC-X washdown floor scale is designed to safeguard against microscopic bacteria in food processing, pharmaceutical and chemical applications.
The RoughDeck QC-X base is composed of solid, stainless steel, vertical plates?providing superior protection against bacteria and mold growth. The rugged design incorporates 304 stainless steel construction and four welded-seal load cells with PTFE cable for steam cleaning and washdown areas. The RoughDeck QC-X is designed to create ideal cleaning conditions for strict sanitation requirements.
When protection matters most, Rice Lake?s QC-X is the ideal solution for strict sanitary washdown environments.
Extreme Resistance The scale base is built from solid, stainless steel plates. The absence of tubes or channels means peace of mind when cleaning the scale. Continuous welds on the solid base plates follow strict sanitary design principles.
Extreme Access The top plate opens 75 degrees, allowing the entire scale interior to be washed and inspected.
Extreme Strength An allover 304 stainless steel construction provides rugged strength in the toughest food, pharmaceutical or chemical environments. A choice of a smooth top plate deck or a diamond teradplate deck (for extra traction) allow further application accommodation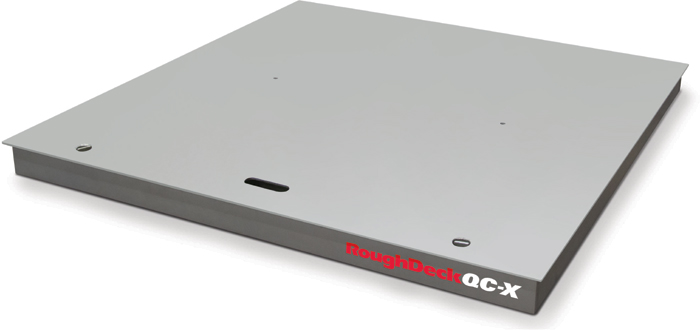 Standard Features
Rugged washdown design, rigid 304 stainless steel frame constructed with continuous welds
Manual drop-in-place safety bars
Four stainless steel, welded seal IP69K, shear-beam load cells
20 ft of SURVIVOr EL147HE hostile environment cable for connecting junction box to indicator
Remote TuffSeal® JB4SS stainless steel NEMA Type 4X junction box, can be mounted up to 15 ft away
1/4 in top plate
Four adjustable stainless steel SUREFOOT? support feet
Top plate opens 75 degrees
Tool-less top plate lock downs
Two 1/2-20NF threaded eyebolt holes for lifting scale into pit frame
Some Notes about the Pit Frams
Use concrete of minimum yield strength 5,000 PSI or 6-bag mix.
Allow 7 days to cure (wet concrete periodically during this time).
Dimensions shown assume firm, stable soil conditions. When soil conditions are not adequate, place foundation at sufficient depth.
In wet or washdown applications, we recommend the use of hermetically sealed load cells, and that the junction box be mounted remotely in a dry location.
Wire mesh to have minimum 0.75 in cover bottom and sides.
Models
Smooth Top Plate Models
Diamond Tread Top Plate
175686
175689
175694
175695
175688
175690
175696
175697



$9,800.20






$9,800.20






$13,524.20






$13,524.20






$10,469.00






$10,453.80






$14,569.20






$14,569.20



Capacity x Readability
5000 x 1 lb
10000 x 2 lb
5000 x 1 lb
10000 x 2 lb
5000 x 1 lb
10000 x 2 lb
5000 x 1 lb
10000 x 2 lb
Size (W x L)
4 ft x 4 ft
4 ft x 4 ft
5 ft x 5 ft
5 ft x 5 ft
4 ft x 4 ft
4 ft x 4 ft
5 ft x 5 ft
5 ft x 5 ft
Height
4.625 in
4.625 in
4.625 in
4.625 in
4.625 in
4.625 in
4.625 in
4.625 in
End Load Capacity
100% full scale at 5,000 lb
80% full scale at 10,000 lb
Remote Junction Box
Remote TuffSeal® JB4SS stainless steel NEMA Type 4X junction box, can be mounted up to 15 ft away
Deck
1/4 in thick smooth top plate
1/4 in thick Diamond Tread top plate
Threaded Eyebolt Hole
Two 1/2-20NF threaded eyebolt holes for lifting scale into pit frame
Load cells
Four stainless steel, welded seal IP69K, shear-beam load cells
Cable
20 ft of SURVIVOr EL147HE hostile environment cable for connecting junction box to indicator
Warranty
RoughDeck QC-X weldment five years, load cells two years, all other components one year
Scale Dims