Model
174792
RL1200-IS

$2,515.50
N/A
Capacity x Readability
1,000 x 0.5 lb
Indicator
320IS Intrinsically-Safe Indicator
Construction
Cast-iron platform, base and levers
Platform Dimensions
24 in x 18 in
Approvals
NTEP Certified 93-004 Class III 2,000d (avoirdupois beam only)
Warranty
One year limited warranty
Dimensions
More About the 320IS Indicator (Included)
Designed with the level of safety your location requires, the 320IS digital weight indicator meets hazardous environment requirements without hesitation. With Factory Mutual (FM) entity approval, it is the ideal solution for dangerous and highly explosive environments. Even in dimly-lit areas, the 320IS maintains brilliant visibility for user-friendly operation.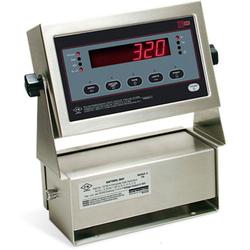 The intrinsically-safe, auto-ranging power supply is designed to meet 320IS entity parameters and safely mount in hazardous areas. With this option, wiring is simplified to a single AC conduit line and seal from the safe area—barrier strips are no longer necessary. When required, an entity approved battery power supply is also available.
For applications that require increased functionality, choose the 320IS Plus. It combines the same great features of the 320IS, but includes a full numeric keypad and keyboard tare. The 320IS Plus is also equipped with standard count mode.
Expand the flexibility of the 320IS and the 320IS Plus with the optional safe area I/O Module, featuring two serial ports, two analog outputs, four digital inputs and four elay contact outputs, allowing communication with printers, computers and other peripherals. Both models are equipped with a duplex fiber optic port for electricallyisolated communication with the I/O Module.
For IS entity approval, Rice Lake offers hundreds of FM-approved load cells that interface with the 320IS and 320IS Plus indicators in accordance with the official FM control drawings.
Standard Features
Bright LED display
Power ON/OFF, battery save mode
Stainless steel NEMA 4X/IP66 enclosure
Front-panel digital calibration
Excitation for 4 x 350Ù or 8 x 700Ù load cells
Gross/Tare/Net computation
Tilt stand
Duplex fiber optic interface
Factory Mutual (FM) entity approved
Class I Division I Groups A, B, C, D and Class II Division 1 Groups E, F, G and Class III; T-Rating: T4
NTEP Certified
320IS Plus also Features
Eight setpoint kinds (requires I/O module)
Count mode
Keyboard tare
Expanded digital inputs and outputs
Options/Accessories
115/230 VAC auto ranging power supply
6V battery and charger
I/O Module, 2 serial ports configurable as RS-485, RS-422, RS-232 or 20mA, 2 analog outputs, 4 digital inputs and 4 relay contact outputs (AC powered)
IS cable: hazardous environment load cell cable
Fiber optic cable
Timer relay for latching (320IS)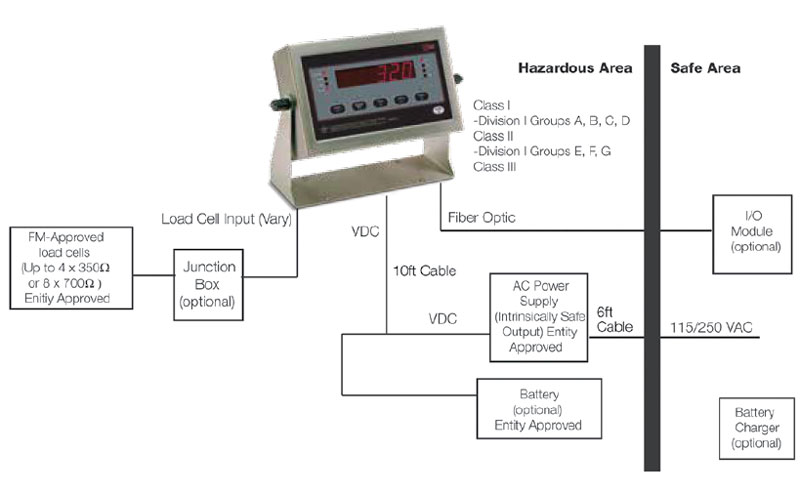 Model 91233 is included with this scale
Model
320IS
320IS Plus
91233
91234
177500
91235
91236
177501

$1,554.30
N/A

$1,566.00
N/A

$895.50
N/A

$1,734.30
N/A

$1,746.00
N/A

$1,075.50
N/A
Battery pack, Charger & Tilt Stand
Included
-
-
Included
-
-
A/C power supply
-
Included
-
-
Included
-
Front Panel Control Switches
Zero, gross/net, tare, print, units conv
Zero, Gross/Net, Tare, Print, Units Conv, Start, Stop, Accum, Tare Display
Front Panel
6-button flat membrane panel
24-button flat membrane panel
Front Panel LED Annunciators
Center Zero, Gross, Net, Motion, lb, kg, oz, g
Legal For Trade
NTEP CC 03-078 Class III/IIIL 10,000d
Measurement Canada AM-5560
Factory Mutual
FM entity approved for classes I, II, and III; Divisions 1 and 2; Groups A, B, C, D, E, F, and G
Load Cell Excitation:
3.0 VDC at 87.5 O
4.6 VDC at 700 O
Load Cell Current
34 mA (4 x 350 &Omega load cells) or (8 x 700 &Omega load cells)
Load Cell Cabling
4 and 6-wire with remote sensing (recommended)
Analog Signal Input Range
0.6 mV/V - 4.0 mV/V
Analog Signal Sensitivity
0.2 µV/graduation minimum
1.5 µV/graduation recommended
Conversion Rate
60 updates/second
Resolution
10,000 displayed graduations (NTEP Certified),100,000 expanded
The maximum number of allowed graduations will vary by application Display Increments:
Display Increments
1, 2, 5
Decimal Point
Configurable with dead zeros
Unit Switching
Configurable for 2 units of measurement with front panel operation with conversion for tare and setpoint values
Motion Band
Configurable to ± 1 or ± 3 graduations, 1 second delay (or Off)
Power Input
5.8 - 7.9 VDC,100 - 175 mA Maximum power consumption 0.25 watts
Operating Temperature
14° F to 104° F (-10° C to 40° C) legal for trade
Rating/Material
Stainless steel NEMA Type 4X/IP66 enclosure
Optional Battery
Operating times: 4 x 350 O = 35-40 hrs
1 x 350 O =40-50 hrs
8 x 700 O = 35-40 hrs
Charging Times: 10 hrs for dead battery, 14 hrs for initial charge
Weight
6.1 lb (2.8 kg)
Warranty
One-year limited warranty
Approvals
NTEP CC 03-078 Class III/IIIL 10,000d
c-UL Listed
FM Entity
Measurement Canada AM-5560