Portable beam scales are well known for time-tested reliability and performance, and Rice Lakes RL1200 Series is designed to complement these demands. For agriculture, warehousing, or general industrial weighing, these cost-effective, cast-iron designs deliver the ultimate in portability and durability.

Well suited to intrinsically safe applications or areas without access to electricity, this all-mechanical design is available in either metric or avoirdupois (lb). The avoirdupois model offers a capacity of 1,000 pounds and is also NTEP Certified, making it suitable for a wide range of commercial and Legal for Trade applications.
SPECIFICATIONS
Construction: Cast-iron platform, base and levers
Poise: Steel locking screw provided
Platform Dimensions: (L x W) 24 in x 18 in
Capacity: 1000 lb
Approvals: NTEP Certified 93-004 Class III 2,000 d
Warranty: One-year Limited Warranty
STANDARD FEATURES
NTEP Certified
Cast iron construction
Locking screw knob on poise
Slotted cast iron counterpoise weights, marked to scale capacity
Heavy-duty wheels for portability
Weights and hanger
Nickel plated steel beam with engraved brass insert
Model
RL1200
RL1200 Metric
RL1200 480
RL1200 480 Plus
RL1200 390-DC
157982
157983
169187
169188
157984



$599.00






$599.00






$1,570.50






$1,570.50






$1,413.00



Capacity
1000 lb x 0.5 lb
500 kg x 0.2kg
1000 lb x 0.5 lb
500 kg x 0.2kg
1000 lb x 0.5 lb
500 kg x 0.2kg
1000 lb x 0.5 lb
500 kg x 0.2kg
Size
24 x 18 in
24 x 18 in
24 x 18 in
24 x 18 in
24 x 18 in
Legal For Trade
NTEP CC 93-004, Class III, 2,000 d
NTEP CC 98-203, Class III, 10,000d
YES
NO
YES
YES
YES
Warranty (limited)
One Year
TYPE
Mechanical
Mechanical
Digital
Digital
Digital
Indicator
-
-
482
482-Plus
390-DC
Dimensions Mechanical
Dimensions Digital
Rice Lake 482 and Rice Lake 482 PLUS
| | |
| --- | --- |
| 482 | 482 PLUS |
Advance to Rice Lake's Legend Series—classic Rice Lake quality and design with innovative features for tomorrow. As the flagship of Rice Lake's Legend Series, the 480 and 482 digital weight indicators have been designed to provide the very best in performance and value.
With stainless steel enclosures and advanced gasket systems, the industrial-strength Legend Series is built for dirty, wet environments and demanding workplaces, inside or out. Advanced circuitry also withstands electrical noise, power disturbances and transient spikes that are common to industrial applications.
Rice Lake's Legend Series is the industry's first choice for readability. With a choice between large, ultra-bright LED or LCD displays, 0.8 inch digits and sharp contrast, these indicators provide superior display visibility. The 480's six-button tactile keypad allows for quick navigation and programming. Advance to the Plus Series for a full numeric keypad.
Connect to a printer, PC or remote display and make use of configurable print formats, time and date function, and local/remote capability. A standard lithium ion rechargeable battery allows operation from remote locations, such as a portable work station.
LED or LCD backlit display, 0.8 in (20 mm), 6-digit, 7-segment
Time and date, battery backed
Local/remote operation
Numeric keypad (480 Plus/482 Plus)
Keyed entries for tare and setpoint values (480 Plus/482 Plus)
2 independent serial ports, RS-232 and 20 mA
Programmable ticket formats for gross, net, accumulator and setpoints
5 continuous stream formats
Operator functions through menu for audit trail, preset tare, unit ID, accumulator, time and date, setpoints, communications and print formats
8 setpoints, sequenced batch engine
Configurable with Revolution® software
Please call (800)832-0055 for Models with analog, relay, USB or Ethernet outputs
Rice Lake 390-DC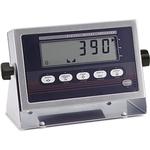 390-DC
The IQ plus® 390-DC digital weight indicatosr take portability to a new level. Running on C-cell alkaline batteries*, these handy indicators allow operation in practically any location imaginable! Topping rivals in ease of use and performance, both models feature battery life up to 300 hours and a configurable standby mode that conserves battery power when not in use.
Operators can't miss the prominent LCD display. Showing up to six digits in unmatched clarity, the huge, on-target design makes viewing easy to reduce costly operator errors. In addition, the IQ plus 390- DC's six-button panel eliminates the hassles of setup and operation—allowing even the most inexperienced operator to be immediately productive. For a full numeric keypad, advance to the IQ plus 590-DC.
Housed in a stainless steel, NEMA 4X/IP66 enclosure, the IQ plus 390-DC/590-DC is designed to outlast any digital indicator on the market. From outdoor weighing systems and portable warehouse scales, to material handling and food processing applications, the rugged construction stands up to repetitive use and environmental abuse. Additional features include a piece count mode that enables both models to serve as part of a portable counting scale, an AC adapter for applications not requiring battery power, and RATTLETRAP® three-stage digital filtering for accurate weight data in environments where vibration is a concern. To ensure stability when weighing animals, choose the optional animal weighing program.
Add it all up and it's easy to see why the IQ plus 390-DC-590-DC sets the standard for portable indicators. IQ plus 390-DC
NEMA Type 4X/IP66-rated stainless steel enclosure
LCD display, 1 in (24.5 mm), 6-digit, 7-segment
S6 button operation
Power for four 350 ohms load cells or eight 700 ohms load cells
Configurable units multiplier
Supports 4- and 6-wire load cell connections
EDP port for full duplex, RS-232 communications
Powered by 6 C cell alkaline batteries for complete portability (batteries not included)
AC adapter for 115 or 230 VAC power
Configurable standby mode that saves battery life
RATTLETRAP® 3-stage digital filtering
Piece count mode
Configurable with Revolution® software