Milligram Model with Round Platform
(draftshield included)

Round Platform

Square Platform

*Volume Discounts Available
We Accept Educational Institutions Purchase Orders
Email Us or Call 800-832-0055



The OHAUS Scout® Pro Education Balance – Hands Down The Classroom's Best Portable Balance!

Designed for use in education applications, the OHAUS Scout® Pro features easy-to-use two-button operation, a high-contrast LCD display, multiple weighing units, five application modes, and the option of either RS232 or USB connectivity, the Scout Pro is the portable balance for your needs!

Maximum Protection – Scout Pro is designed with mechanical and software protection against shock and overloading which can cause damage to the weighing cell. An integrated shipping lock protects the weighing cell during transportation or storage
RS232 or USB Connectivity – Scout Pro interface accessories are easy to install at anytime, even after purchase. The data cable is integrated in the kit, eliminating the need for additional cables
Specific Gravity Software and Kit – The Scout Pro Education Balance is designed with specify gravity software and an above balance kit which allows for specific gravity determination. The integral weigh below hook is a secondary setup method for specific gravity determination
For all Grade Levels:
Elementary
Middle School
High School
Junior College

For all Science Applications:
Biology
Chemistry
Physics
Physical Science
Earth Science
Prep Work
Density/Specific Gravity
Field Use
Built-In Application Modes
Specific Gravity

Specific gravity calculation is automatic in weighing mode
A Density/Specific Gravity kit is included with all Scout Pro Education Balances up to 4000g. It allows placement of sample and solution on top of balance when suspension of samples below the balance isn't practical.
An integral weigh-below hook is part of the balance, so it can't be misplaced!

Percent Weighing – Use the Percent Weighing mode to compare samples for compounding, formulation, or quick weight checking. Place your reference weight on the platform, enter the weight into memory, and the display will show the percentage of the sample weight on the platform compared to the reference weight.
Totalization – Use Scout Pro's memory function to repeatedly sum the weight on the platform. Unlike other balances, the Scout Pro allows totalization up to the limit of the display!
Display Hold – The Display Hold mode allows you to retain the weight of an over-sized sample on Scout Pro's display
Parts Counting – The Scout Pro is designed for flexibility when counting parts

Select from a sample size of 5, 10, 20 or 50 pieces while in counting mode with a quick button press
Scout Pro features user-enabled automatic recalculation of the average piece weight – instead of counting 100 parts for a sample, count 10 and let the Scout Pro count the rest of the sample! For applications where automatic recalculation is not desired, the easy-to-use menu system allows this feature to be disabled
The Scout Pro can also be configured for situations where only the counting feature is required

User-Configurable – Scout Pro allows you to select active weighing units and modes using the two-button keypad. Scout Pro can be quickly configured using an on-display menu system – there are no cryptic codes to input! A built-in lockswitch prevents reconfiguration during use.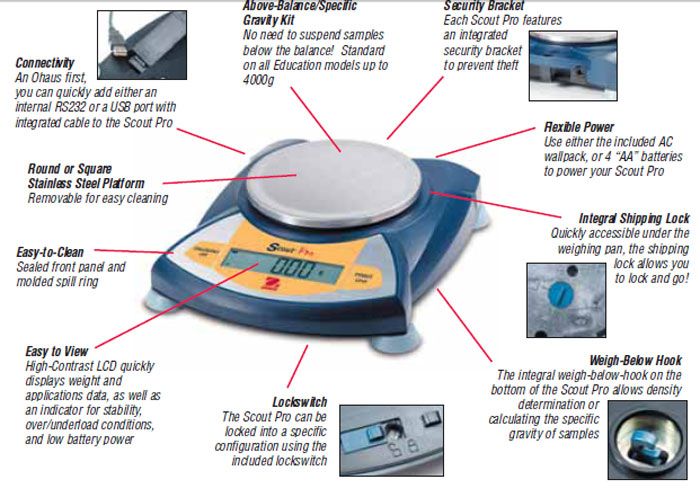 Standard Features/Equipment Removable stainless steel weighing platform, high contrast LCD display, lockswitch, integral security bracket, integral shipping lock, integral weigh below hook, sealed front panel and molded spill ring, stability indicator, overload and underload indicators, low battery indicator, auto shut-off, AC adapter, span calibration mass included on 200g, 400g and 600g models.
Model
SPE123*
SPE202
SPE402
SPE602
SPE401
SPE601
SPE4001
SPE6001
SPE6000

Price

$399.00




$335.00




$476.00




$485.00




$189.00




$242.00




$519.00




$519.00




$252.00



Capacity X Readability (g)
120 x 0.001
200 x 0.01
400 x 0.01
600 x 0.01
400 x 0.1
600 x 0.1
4000 x 0.1
6000 x 0.1
6000 x 1
Capacity X Readability (kg)
-
-
-
-
-
-
4.0000 x 0.0001
6.0000 x 0.0001
6.000 x 0.001
Capacity X Readability (oz)
4.23290 x 0.00005
7.0550 x 0.0005
14.1095 x 0.0005
21.645 x 0.0005
14.110 x 0.005
21.165 x 0.005
141.095 x 0.005
211.65 x 0.005
211.65 x 0.05
Capacity X Readability (lb)
-
-
-
1.32280 x 0.00005
-
1.3230 x 0.0005
8.8185 x 0.0005
13.2280 x 0.0005
13.230 x 0.005
Capacity X Readability (N)
1.1768 x 0.00001
1.9613 x 0.0001
3.9227 x 0.0001
5.8840 x 0.0001
3.923 x 0.001
5.884 x 0.001
39.227 x 0.001
58.840 x 0.001
58.84 x 0.01
Repeatability (Std. Dev.) (g)
0.003
0.01
0.1
1
Linearity (g)
+/-0.003
±0.01
±0.02
±0.1
±0.2
±1
Application Modes
Specific Gravity, Parts Counting, Percentage Weighing, Totalization, Display Hold
Tare Range
To Capacity By Subtraction
Over Range Capacity
Capacity +90d
Stabilization Time
3 seconds
Operating Temp. Range
50° to 104°F / 10° to 40°C/td>
Power Requirements
AC Adapter (included) or 4 AA Batteries (not included)
Calibration Type
Specific Gravity, Parts Counting, Percentage Weighing, Totalization, Display Hold
Application Modes
Specific Gravity, Parts Counting, Percentage Weighing, Totalization, Display Hold
Application Modes
Digital Calibration from Keypad
Calibration Mass (Full Span)
100 g
200 g
400 g
600 g
400 g
600 g
4000 g
6000 g
6000 g
Calibration Mass (Linear)
50 g
100 g
200 g
300 g
200 g
300 g
2000 g
3000 g
3000 g
Display
High Contrast LCD with 6 digits 0.6in / 15mm high
Pan Size (in/cm)
3.6 / 9
4.7 / 12 diameter
6.5 x 5.6 / 16.5 x 14
Warranty
5 YRS
5 YRS
5 YRS
5 YRS
5 YRS
5 YRS
5 YRS
5 YRS
5 YRS
Dimensions WxHxD (in/cm)
7.5 x 4.4 x 8.3
19.2 x 10.8 x 21
7.56 x 2.13 x 8.27 / 19.2 x 5.4 x 21.0
Net Weight (lb/kg)
1.5 / 0.7
1.8 / 0.8
Shipping Dimensions WxHxD
10 x 4 x 12 in / 25.4 x 10.2 x 30.5 cm
Shipping Weight (lb/kg)
4 / 1.8
*Draftshield included


*Volume Discounts Available
We Accept Educational Institutions Purchase Orders
Email Us or Call 800-832-0055