Legal For Trade

Have Questions?


Our Staff will be glad to help
Features and Benefits
Accurate and reliable: METTLER TOLEDO guarantees accurate results for every weighing job.
Compact design: Small footprint - ideal, when space is limited. The auxiliary display can be mounted on the balance easily.
Back-lit display: The display on all jewelry balances guarantees that the results can be read easily and securely. Easy reading for you - and with an auxiliary display for your customers. Only JL-G.
Built-in applications: All jewelry gold balances have several applications already included in the software: Basic weighing, piece counting and percent weighing.
Legal For Trade: All balances are "Legal For Trade", also known as approved, which is required in applications where the product is sold by weight. All "Legal For Trade" balances have undergone independent testing to verify the scale meets the manufacturers specifications. For USA & other countries: A-Version. For Europe and selected countries: M-Version.
Standard equipment
Automatic adjustment with external weights
Back-lit display (only JL-G)
RS232C interfaces on selected models
Protective cover
Various weighing units can be displayed
Below-the-balance weighing device
Battery and AC operation
Auxiliary Display.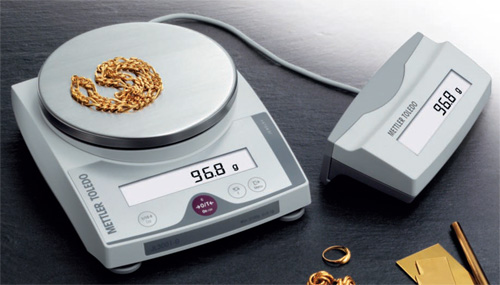 Model
JL6001GE/A
JL1502GE/A
JL602GE/A



$515.00






$609.00






$520.00



Capacity x Readability
6200 x 0.1 g
1502 x 0.01 g
620 x 0.01 g
Legal for Trade
Class II
Weighing Pan
Ø 160 mm
Ø 160 mm
Ø 160 mm
Interface
RS232
RS232
RS232
Taring Range
0 ... 6100 g
0 ... 1510 g
0 ... 610 g
Repeatability (sd)
0.1 g
0.01 g
0.01 g
Linearity
0.2 g
0.03 g
0.03 g
Sensitivity temperature drift (10 °C … 30 °C)
10 ppm/ °C
Typical stabilization time
3 s
Adjustment weight external
5000 g (optional)
1000 g (optional)
500 g (optional)
Level indicator
Yes
Units of measurement
Gram (g), Milligram (mg), Carat (ct), Troy Ounce (Ozt), Kilo Grams (kg)
Number of leveling screws
4
4
2
External dimensions (W/D/H)
194mm/ 225mm/ 67mm
194mm/ 225mm/ 67mm
194mm/ 225mm/ 67mm
Net weight
1.3 kg
1.3 kg
1.0 kg