Intercomp Platform Scales

Intercomp Company, Inc. is the worlds largest manufacturer of portable weighing solutions, and has been serving the industrial, material handling and transportation industries for over 25 years. Producing the highest quality products while maintaining competitive pricing and a strong commitment to customer service has enabled us to continue leading the industry in the 21st Century. With ISO 9001 Registered facilities in the United States and the United Kingdom to service our worldwide customer base, we are positioned to provide the products and services that your company requires. See for yourself how Intercomp provides advanced weighing technology?by any measure.





Intercomp CW500 Stainless Steel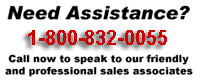 Weigh pallets, drums and oversized items on a variety of deck sizes starting at 2x2 feet to the universal 4x4 model on up to any custom size and capacity. Easily installed above or below ground and requires no shimming. Built from carbon steel, aluminum or stainless steel this durable unit takes a beating and still delivers fast and accurate readings by using NTEP approved shear beam load cells. Capacities from 500 to 20,000 lbs/ 250-10,000 Kg.
Stainless steel construction.
Available in a multitude of sizes and capacities.
Quick and easy above or below ground installation.
Optional Ramps and Surround Guards for easy access and fork lift protection.
Optional all weather j-box and connectors for outdoor use.
Specific models for weighing LD-3 and 463L pallets.
NTEP COC# 94-038
Model
Image
Description
Capacity/Graduation
Weight
Price
Ramp