Intercomp offers the industry's most extensive line of crane scales, and can provide your company with a cost-effective solution to virtually every overhead industrial weighing application - ranging from 25 to 600,000 lbs/ 12.5 to 300,000 kg.
Our advanced design, value-packed with the industry's most desired features, makes Intercomp the first choice over other electronic units. Ultra high-resolution, A/D conversion delivers unsurpassed accuracy, and digital keypad setup and calibration enhance the ease of operation.
All crane unit electronics are shock-mounted in a weatherproof case and provide maximum protection against moisture, dust and rough usage. Features include a high-visibility digital readout for easy reading of weights and large pushbutton switches for simple, trouble-free operation.
Low-cost, high performance digital crane scale for medium capacity industrial applications. The unique design flexibility lets you choose the model and weighing capacity you need - NTEP certified from 300 to 20,000 lb/150 to 10,000 kg. The unit utilizes a high-visibility 0.8 inch/20 mm LED digital readout and the efficient micro-controller delivers up to 100 hours of operation on eight (8) D-cell batteries. Crosby eye hook and bottom swivel hook.
High accuracy, compact digital hanging scales for lower capacity applications. The CS200™ is available in 25lb (13kg) to 500lb (250kg) capacities and is extremely compact and lightweight, weighing just 1.6lbs (0.7kgs
High accuracy, compact digital hanging scale for low capacity applications. Tremendously compact (weighs only 1.6 lb) and accurate (+/- 0.1% of applied load) for ranges from 25 to 500 lb/12.5 to 250 kg. The unit operates for up to one year on a single standard 9-volt alkaline battery. Supported by a full one-year parts and labor warranty. Perfect for tight budgets.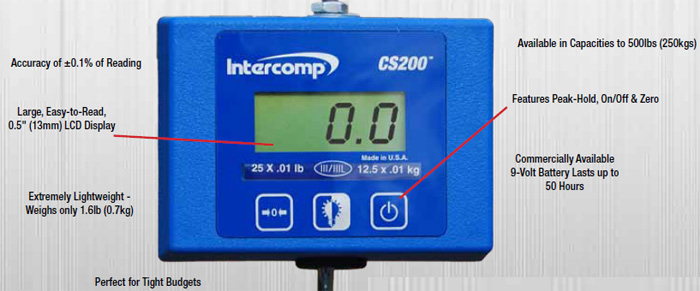 Model
100775
100774
100773
100772
100771

$535.50


$535.50


$535.50


$535.50


$535.50

Capacity/Graduation
25 x 0.01 lb
12.5 x 0.01 kg
50 x 0.02 lb
25 x 0.01 kg
100 x 0.05 lb
50 x 0.02 kg
250 x 0.1 lb
12 5x 0.05 kg
500 x 0.2 lb
250 x 0.1 kg
Weight
2.2 lb
Dimensions
Control Box – 4.25 x 5 x 8.5
108 x 127 x 216 mm
Lifting eye to hook – 9.5/241 mm
Power
Six (5) "D"-size disposable alkaline dry cells or rechargeable nicad cells (Not included)
Display
5 digit, 1 inch/ 25mm liquid crystal display (LCD)
Temperature Range
Operating -4 to 140°F/-20 to 60°C
Accuracy
+/- 0.1% of reading
Resolution
20-bit A/D converter delivers over 1,000,000 internal counts
Filtering
6-pole, 10 hertz low pass
Control
On/Off, Zero and lb/kg