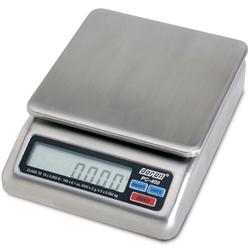 Constructed entirely of easy to clean stainless steel, the PC-400 is a compact battery powered scale. Extremely precise, the large LCD read-out displays weight in as fine as a 0.1 gram. Power is provided by either an internal rechargeable battery pack or the included AC adapter. The auto shut-off feature maximizes battery life.


Legal for Trade
Exclusive "Quad-Spring" Shockproof Design
The PC-400 includes our field proven, exclusive "Quad-Spring" base design that virtually eliminates damage from shock and overload.
AC Power or Rechargeable Battery
The choice is yours - use the included AC plug-in adapter, or the internal rechargeable battery for total portability. Recharge the battery in less than four hours with the AC adapter - you can even use the PC-400 portion control while its recharging
Stainless Steel Construction
The case and removable platter are constructed of food grade 304 stainless steel. Designed to the exacting standards of NSF, the wipedown safe PC-400 cleans easily and quickly.
Model
PC400-02
PC400-02LFT
PC400-05
PC400-10
PC400-20



$339.00






$339.00






$339.00






$339.00






$339.00



Capacity x Readability
2 x 0.0002 lb
2 x 0.001 lb
5 x 0.002 lb
10 x 0.005 lb
20 x 0.01 lb
1000 x 0.1 g
1000 x 0.5 g
2300 x 1 g
4500 x 2 g
9100 x 5 g
35 x 0.005 oz
35 x 0.02 oz
80 x 0.05 oz
160 x 0.1 oz
320 x 0.2 oz
Resolution
(not NTEP)
10,000d
10,000d
5000d
10,000d
10,000d
Legal for Trade
-
CC# 04-039A1 Class III
CC# 04-039A1 Class III
CC# 04-039A1 Class III
CC# 04-039A1 Class III
NTEP Resolution
-
2500d
2500d
2500d
2500d
Computer Interface
Bi-directional RS-232 (standard)
Display
LCD 0.66? High - Wide Viewing Angle
Controls:
ZERO(TARE), ON/OFF & UNITS
Indicators
Negative Weight, Motion, Low Battery and Weighing Units
Units
lb, kg, g, oz, or lb:oz
Power
AC & DC Power Standard
115V AC Adapter, 6 cord
Rechargeable Battery, 15 hour life
Case/Platter
304 Stainless Steel
Feet
Four Adustable, plus a bubble level
BATTERY LIFE
Rechargeable Battery, 15 hour life
Platter Size
6.5" x 6.5"
Warranty
Scale - 1 Year Parts and Workmanship
Battery - 90 Days Parts and Workmanship