Have Questions?


Our Staff will be glad to help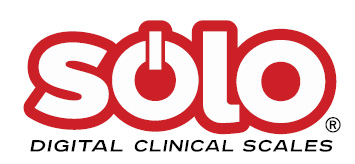 DETECTO's new solo® eye-level clinical scale is the most economical, high-quality digital physician scale with height rod available. The solo® scale features 550 lb x 0.2 lb / 250 kg x 0.1 kg capacity, 14 in W x 15 in D x 2.4 in H low-profile platform, inline mechanical height rod, eye-level weight display and column, one-inch-high LCD readouts, Body Mass Index calculation, integral wheels for mobility, one RS232 serial port, and convenient audible beep confirmation. The solo® is powered by 6 AA batteries, which are included, or an optional AC adapter.
The solo® indicator features 8 simple buttons that are easily identifiable in any language. The scale's RS-232 serial port allows you to output measurement data to EMR/EHR software. Simply step on the scale to weigh and the scroll arrows let you rapidly enter your height to factor BMI. The mechanical height rod is situated to the side of the LCD, so it never interferes with viewing measurements. The oversized 14 x 15 inch platform with rubber mat is only 2.4 inches high making it easy for patients to step on and off. The AC port is located in the base, so no pesky wires dangle from up on the indicator (AC Adapter optional: model PD-AC).Two integral wheels allow for ease of movement whenever you need to transport the solo®.
550 lb x 0.2 lb / 250 kg x 0.1 kg Capacity
Weight, Height, and Body Mass Index
14 in W x 15 in D x 2.5 in H Platform Size
6 AA Batteries (included) or Optional AC Adapter
Inline Mechanical Height Rod
Eye-level height display for ease of use (52 in / 132 cm H)
Inline height rod measures: 30 in to 84.5 in / 76 cm to 214.5 cm
1-inch/25-mm high LCD, clearly-visible display
Rock-solid, stable column – aluminum white powder coated
Two wheels for quick and easy portable transport
Rubber mat for patient assurance and stability



Specifications
Model
SOLO
SOLO-AC



$418.18






$501.96



Capacity x Readability
550 lb x 0.2 lb
250 kg x 0.1 kg
550 lb x 0.2 lb
250 kg x 0.1 kg
Platform Size
14 in W x 15 in D x 2.4 in H
36 cm W x 38 cm D x 6 cm H
AC adapter
NOT Include
Include
Weight Units
Pounds or Kilograms (selectable upon initialization at start-up; changeable through Settings menu)
Power
Six (6) AA size Alkaline batteries (included) OR an optional medical device 9V AC/DC wall plug-in adapter (Detecto part number PD-AC).
Display
Five-digit, seven-segment, 1.0-inch (25-mm) high LCD digits
Operation Temperature
50 to 104 ºF / +10 to +40 ºC
Function Keys
ON/OFF, PRINT, ENTER, UP ARROW, DOWN ARROW, BMI HEIGHT, LOCK/RELEASE, ZERO
Annunciators
ZERO, LOCK, STA, HOLD, LB, KG, CM, FT/IN, HEIGHT, WEIGHT, BMI, AM, PM
Scale Dimensions
14.3 in W x 19.5 in D x 52.0 in H
36.3 cm W x 49.5 cm D x 132.1 cm H
Interface
RS-232 Serial Port, 9-Pin (DB-9), Baud Rate 9600
Height Rod
Mechanical included standard, inline
Height Rod Units
Inches or Centimeters
Height Rod Range
30 in to 84.5 in / 76 cm to 214.5 cm
Manual Input Height
2 ft 0.0 in – 7 ft 10.5 in by 0.5 in / 60.0 cm - 240.0 cm by 1cm
Minimum Weighing
11 lb / 5 kg
Wheels
(2) wheels for ease of movement
Selectable Auto Shut-Off:
Up to 9 Minutes
Construction
Column and height rod – aluminum alloy white powder coated; indicator enclosure, height rod arm, platform and base – white ABS; mat – black PVC
Product Weight
17.7 lb / 7.7 kg
Shipping Weight
25 lb / 11.3 kg
Package Dimensions
30 in W x 20 in D x 11 in H / 76 cm W x 51 cm D x 28 cm H
UPC Code
809161197709
809161328103